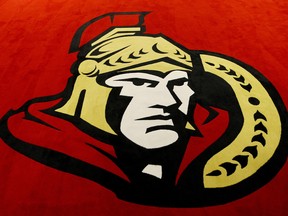 Article content
BELLEVILLE — The Ottawa Senators took the Battle of Ontario on the road Friday night.
Article content
And those trying to make an impression for a spot on the roster could be making their way back to the CAA Arena Sunday morning.
Article content
Facing a Toronto Maple Leafs' team that barely resembled the one that will start the season, the Senators spotted their arch-rivals a 3-0 lead in the first period, battled back and dropped an ugly 6-3 decision in front of a full house of 4,200 at home of their AHL affiliate.
Article content
Only Drake Batherson, Angus Crookshank and Parker Kelly were able to beat Toronto goalie Ilya Samsonov as the Senators prepare to shape their roster for the regular season.
"It's a little disappointing," said Batherson. "It's a full barn out there and you want to come down and win for them. I come a from a small town and I know how much it means for these kids to come out and see an NHL game. We wanted to come down and get a win. That wasn't the case and we've got some work to do."
Article content
General manager Pierre Dorion along with assistant GM's Trent Mann and Ryan Bowness were all hand with some of the scouts. They'll sit down with coach D.J. Smith and the rest of the staff after Saturday's visit by the Montreal Canadiens to make some decisions.
Smith said he wanted to put on a better show for the people here.
"We certainly weren't ready right off the hop. Give them credit, they brought a group of checkers and when you're playing against that you've got to play a certain style and we just kind of played into their hands," Smith said.
The club has to determine what it's going to do at the fourth-line centre position and where everybody fits on defence.
"We've got to watch the guys that are kind of on the bubble or knocking on the door very closely," Smith said Friday. "We want to get more repetition with team play when it comes to systems and just playing games — get into the rhythm of a game day and the meetings. All those things that go with being in the NHL.
Article content
"We just want to continue to get better as a group and be ready when the season starts."
The ideal scenario would see the club cut to 26 players — including three goaltenders — but with three exhibition games left don't be surprised if the number is a little closer to 30. That's why it was paramount the players pushing for spots made the most of this opportunity.
There's still 54 players in camp and the Senators need to get down to workable numbers.
"It's going to depend on how the players play," Smith said. "There could be as many as 31 players or as little as 26. If guys make it hard on us, we're going to bring them out (East) and see if we can get them in some more games."
Give the Senators credit they brought a strong lineup here to try to reward the fans because this game sold out in four minutes. People here have never had the chance to see Brady Tkachuk or Tim Stutzle because they both started their careers in Ottawa so they made the trip.
Article content
This was a homecoming, of sorts, for Norris and Batherson because they both had the opportunity to have success here. Smith brought them here because he felt the people in Belleville should have the chance to see them as NHL players.
Just for good measure, Smith had Belleville coach Troy Mann join the Ottawa staff on the bench and that was also a nice touch.
There were long stretches of this game that weren't very good for the Senators. Sure, it's only an exhibition game so there's no cause for concern, but the club didn't create nearly enough with several top players in the lineup and gave way too many chances.
Denis Malgin put this away with nine minutes left in third when he put home a loose puck.
Playing his first full game of the pre-season, goaltender Anton Forsberg did good job keeping the Leafs at bay once they took a 3-0 lead. Through two periods, the Senators were outshot 30-20 by the Leafs and were only down by a goal.
Article content
There was a scary moment in the second when Norris took a cross-check to the face from Malgin. That came off a faceoff and none of the officials saw it. Norris went straight to the dressing room to get stitched up and returned for the third.
Batherson made this interesting at 9:29 of the second when he pulled the Senators to within a goal on the power play. He took a pass from Tkachuk and beat Samsonov from the slot. The group had done terrific job moving the puck and Toronto's lead was cut to 3-2.
Trailing 3-1 after the first, the Senators were getting what the deserved. Kelly was able to the club on the board with 27.1 seconds left in the first when he took a perfect setup from Dylan Gambrell and beat Samsonov on the stick side.
Article content
That came moments after Austin Watson dropped the gloves with Wayne Simmonds. The Ottawa bench didn't like a hard hit he delivered on Thomas Chabot.
This got ugly in a matter of minutes in the first for the Senators.
The Leafs struck for three goals in a span of 1:55 to pull to a 3-0 lead. Victor Mete exacted a little revenge against his former team by striking with 10:11 left in the period while Nicolas Aube-Kubel beat Forsberg at 8:29 to pen up a 2-0 lead.
Smith was so upset he called a timeout to try to get his team to give Forsberg a little bit of defensive support. The Senators weren't using their speed, winning the battles for loose pucks or playing well defensively.
"We're turning over pucks over blatantly and hanging him out," Smith said. "Here's a guy that's going to be one of our main guys all year. I wanted to make sure we had some pride defensively and make sure we're taking care of him."
Toronto's Nicholas Robertson opened the scoring at 7:54 with a screen shot that found its way through Forsbeg. Robertson scored his second of the game on the power play in the third.