Article content
It was intriguing to see Jake Sanderson and Erik Brannstrom together in the Ottawa Senators final exhibition game in Bouctouche, N.B., last Saturday.
Article content
On a team where the defence remains the biggest question mark before Thursday's season opener against the Buffalo Sabres, Sanderson and Brannstrom held their own against a Nick Suzuki-less Montreal Canadiens lineup.
Article content
"It was a great opportunity for those young guys, to play all those minutes," said Senators coach D.J. Smith. "For those guys to be able to play against (Cole) Caufield and some of their skilled guys, like (Sean) Monahan and (Kirby) Dach is a great experience that you're not going to get another time."
Article content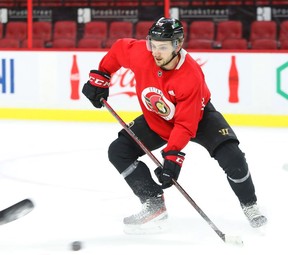 Good for them for successfully answering that situation.
The preliminaries now out of the way, it's on to the main event.
Among others, how well Sanderson and Brannstrom deal with the increased intensity and tempo will dictate if — and most likely when — general manager Pierre Dorion makes a move to upgrade the blue line.
Article content
Thomas Chabot and Artem Zub begin the year as the top pair, of course, but those "young guys" are also charged with plenty of pressure.
Sanderson, who turned 20 in July, alternated between being decent and solid during the pre-season — he looked great as part of the electric power play — but he still hasn't played a single regular season game. His opening day partner, Travis Hamonic, is also aiming to re-establish himself as a top four NHL defenceman after a bumpy ride with the Vancouver Canucks.
Throughout the rebuild, there has been a revolving door as the Senators have struggled to find workable pairings. Starting the season as a top four pairing, there is considerable pressure on Sanderson and Hamonic to help limit the chances against goaltender Anton Forsberg.
Article content
Hamonic, 32, with 718 NHL games under his belt, has the experience. Sanderson has the special tools. Who supports whom on that tandem?
However it works out, Sanderson is clearly not intimidated.
"My whole life I've played in every situation, so whether it's power play or penalty kill, I'm not really out of my element and I feel comfortable wherever," he said after the pre-season wrapped up.
Sanderson recognizes that in the big leagues, all the little things combine to make up the big package of success. Through it all, he's trying to not make it too complicated.
"Just the details are so important," he said. "Playing in a team structure and just playing as one, five guys in the defensive zone, and all that. But at the end of the day, you've just got to compete. It's hockey, so it's not anything we haven't done before."
Article content
The challenges of the regular season will be new to Sanderson, but that's certainly not the case for Brannstrom, who has been through a whirlwind of a yo-yo ride for several years.
Ever since arriving with the lofty expectations in the Mark Stone trade way back in February, 2019, he has been on the shuttle to and from Belleville, occasionally flipped from the left to the right side and has been in and out of the lineup while trying to earn Smith's trust.
In so many ways, he's a survivor.
You could almost label him a veteran, given his background here. It may be hard to believe, but the only players who have been around the organization longer than Brannstrom are Brady Tkachuk, Drake Batherson, Thomas Chabot and Nikita Zaitsev.
Article content
Brannstrom, who turned 23 a month ago, effectively went into training camp having to show he was a better third pairing option than Zaitsev.
After a rough outing against the Winnipeg Jets early in training camp, he rebounded, earning himself the spot beside Nick Holden.
Brannstrom is 5-10 (maybe), and still looks vulnerable to the type of big hit that could cause an injury, but he has rediscovered some swagger by showcasing an ability to stickhandle out of trouble.
In that final game with Sanderson, he also displayed the versatility of playing on the right side.
For now, it's Holden that is moving to the right from the left, where he spent most of last season.
"He continues to play well," Smith said of Brannstrom's development. "He's skating well, he continues to progress. He's not a guy that's on the bubble. He's here and we'll continue to work with him."
Article content
Which leaves Zaitsev. Barring an injury to someone ahead of him on the depth chart, he's the odd man out on defence as the season opens. He carries a healthy price tag as a healthy scratch — a $4.5 million salary cap hit this season and next —creating the potential that he could be placed on waivers at some point.
That could be an option if Dorion is considering a trade (the rumblings about Arizona's Jacob Chychrun never go away) or if either Jacob Bernard-Docker or Lassi Thomson force some movement with strong play in Belleville.
In the big picture, can the Senators new-look offence make up for a defence that still needs to prove itself?
Twitter.com/Citizenkwarren
GARRIOCH: One-on-one with Senators coach D.J. Smith on the eve of the season

It will be up to goaltender Anton Forsberg to carry the ball to start the season for the Senators