The increase was a result of SaskPower burning more coal and gas, as well as outages at its carbon capture unit.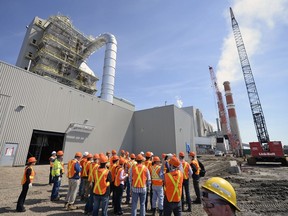 Article content
After reducing emissions below 2005 levels for the first time two years ago, SaskPower reported a setback and saw its air pollution creep up again in 2021.
Article content
In its recent annual report, SaskPower blamed the increase in emissions on reduced hydro availability, more burning of coal and natural gas and unexpected outages at the carbon capture and storage facility at the Boundary Dam Power Station.
"Delays on wind and solar projects also contributed to greater reliance on higher-emitting generation sources," states the report, released last week, noting electricity demand returned to pre-pandemic levels.
In 2021, SaskPower's emissions climbed to 14.9 million tonnes of carbon dioxide equivalent, a 16-per-cent increase from 12.8 million tonnes emitted in 2020. In 2019, it emitted 15.9 million tonnes.
Its 2021 levels put it 5.1 per cent above the 2005 benchmark, which is 14.2 million tonnes. It had targeted to see emissions be eight per cent below that mark.
NDP environment critic Erika Ritchie said the increase in emissions is concerning. She accused the province of not bringing more renewable energy sources into the mix earlier.
"The government has had ample time to put together a plan that would insulate our economy and our energy sector from any types of future shocks," she said. "And what we're seeing here, basically, is the result of 15 years of a Sask. Party policy vacuum that's prevented SaskPower from taking the steps necessary to plan for the future."
Despite the challenges, the Crown corporation remains poised to reduce emissions by 50 per cent below 2005 levels by 2030. It's aiming to be net-zero by 2050 but has said it can't meet a proposed 2035 target.
Article content
"We already had a plan in place to decarbonize," said Rupen Pandya, the president and CEO of SaskPower, during a news conference last week. "What's occurred with respect to clean electricity standards is an increase in that timeline, which is financially, logistically and technologically not possible."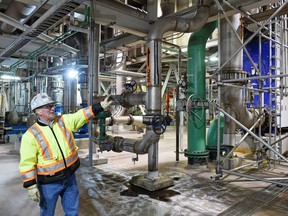 The failure to meet the target this year to reduce emissions is once again putting SaskPower's carbon capture and storage unit at Boundary Dam in the spotlight.
According to the report, the carbon capture facility was offline for more than half of the year because of carbon dioxide compressor issues. Subsequent cooler leak repairs were needed.
Earlier this year, SaskPower reported the carbon capture unit fell short of its targets. It captured roughly 44 per cent of the plant's emissions in 2021. It has a target range between 75 and 80 per cent.
The unit, which was part of a $1.5 billion retrofit eight years ago, has previously faced scrutiny for having maintenance issues and not meeting targets. While proponents say carbon capture is part of the solution in addressing climate change, critics have said there are better alternatives to reduce emissions.
SaskPower was unable to respond to further requests for comment by the Leader-Post's deadline on Tuesday.
Ritchie said the mechanical issues at the carbon capture unit also reflect missed opportunities to bring in other sources of energy.
She said the province could learn lessons from neighbouring Alberta, which she said has added more renewables to its grid.
Article content
While Alberta doesn't have a provincially owned utility, she said growth has been possible there because that province has been open to ideas from those in the industry.
The emissions challenges come as SaskPower posted a $11 million net-come last week, a 92-per-cent drop from $160 million in 2020-21.
While the corporation said it's in a strong financial position, the drop in revenues were a result of having to spend more on other fuel sources because of a lack of hydro availability. An increase in fuel prices and the federal carbon tax also took a hit to revenues.
With SaskPower not being able to make the 2035 target, Ritchie said there's an opportunity to work with the federal government for investment.
"I think it's become such an adversarial relationship that it's made it very difficult for those collaborations to happen," she said.
She said Saskatchewan should look at all options when it comes to renewables, including the possibility of buying more hydro power from Manitoba.
According to the report, SaskPower is poised to commission 190 MW of energy from Manitoba Hydro in 2022-23. It struck a new deal with the neighbouring utility in 2018. 
The news seems to be flying at us faster all the time. From COVID-19 updates to politics and crime and everything in between, it can be hard to keep up. With that in mind, the Regina Leader-Post has created an Afternoon Headlines newsletter that can be delivered daily to your inbox to help make sure you are up to date with the most vital news of the day. Click here to subscribe.