Police chief says simple possession is already effectively decriminalized in Saskatoon, but a formal move would require provincial support.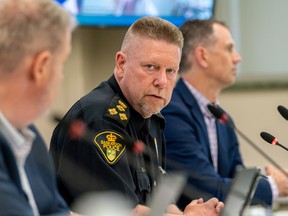 Article content
Without the weight of the provincial government behind it, Saskatoon appears unlikely to formally decriminalize low-level drug possession any time soon.
Article content
Wednesday saw a joint meeting of city council's governance and priorities committee and the Saskatoon board of police commissioners to discuss a nearly 60-page report from Police Chief Troy Cooper, which was compiled with the help of researchers from the University of Saskatchewan, following a resolution at the board's meeting in August 2021.
The report looks at what other jurisdictions are doing, what role police boards and police services might play, and what roles the municipal, provincial and federal governments have in the issue, all in the context of trying to address the crisis of overdose deaths that has erupted in recent years.
Cooper explained to the gathered commissioners and councillors that Saskatoon already operates under a model of "de facto" decriminalization for simple possession of illegal narcotics.
The offence is rarely charged and, even when it is, federal drug prosecutors withdraw the charges almost 80 per cent of the time. He said possession is almost always charged in conjunction with other offences.
In cases where a possession charge gets laid on its own, Cooper said it's usually in circumstances where the setting is an aggravating factor; like if someone is caught with drugs in a correctional facility or in the courthouse holding cells.
He said people might also face a possession charge on its own if they're found with drugs following an arrest on warrants for more serious matters.
Article content
He suggested the current system gives police discretion to use possession charges to target traffickers and others who pose an overall danger to the community, while avoiding prosecutions of vulnerable people.
B.C. recently secured a federal exemption allowing it to decriminalize drug possession across the province. Wednesday's meeting also saw discussions of policies in Switzerland and Portugal, both countries that emphasize treating drug use as a public health problem, rather than a criminal justice matter.
Cooper noted all those jurisdictions have developed extensive infrastructure around treatment and other supports, giving police options that aren't available to Saskatoon.
"I don't think that the City of Saskatoon presenting this, and having decriminalization as a municipality, I don't think we're at the point that that would have great enough benefit for us. I think we need to have other supports in place in order to do that," Cooper said.
Mayor Charlie Clark echoed that sentiment later in the meeting. He serves on the police board in addition to his role on council.
He said the board asked for the report in order to be better informed about decriminalization, because the conversation is picking up steam around the country.
He said the board has not made any request for council to ask for a federal exemption that would allow formal decriminalization in Saskatoon, because the addictions and mental health supports to underpin the move aren't yet in place.
Article content
"It doesn't exist here. We know there's a lot of gaps in services and that trying to undertake this without those systems in place would be potentially undermining of that," Clark said.
The news seems to be flying at us faster all the time. From COVID-19 updates to politics and crime and everything in between, it can be hard to keep up. With that in mind, the Saskatoon StarPhoenix has created an Afternoon Headlines newsletter that can be delivered daily to your inbox to help make sure you are up to date with the most vital news of the day. Click here to subscribe.