Total enrolment for the year is 26,650, an increase of 873 students.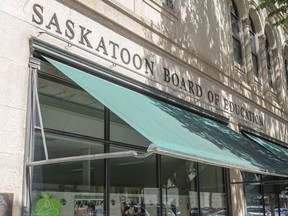 Article content
Two years after grappling with enrolment dips caused by the pandemic, Saskatoon Public Schools is now seeing unprecedented growth.
Article content
The division released its official school enrolment numbers Wednesday, showing a significant increase in enrolment for the 2022-2023 school year.
Article content
A report presented at the public school board's meeting Tuesday evening said 873 more students are attending public schools in the city. The numbers are pending Ministry of Education approval.
Total enrolment for the year is 26,650, a difference of 539 students from what was projected.
It's a far cry from the onset of the COVID-19 pandemic in 2020, when enrolment fell by about 500. At that time, school administrators and community partners were working to connect with families and encourage them to register if possible.
The report says the division is using targeted Ministry of Education funding to pay for a team of outreach workers to continue that work, re-engaging students who were away from school for a significant period during the 2020-21 and 2021-22 school years.
Article content
A record number of students and families have used the SPS Newcomer Centre: 776 intakes this year compared to 262 in 2021-22 and 329 the year prior.
The division noted that while the growth for 2022-23 is encouraging, it also "present(s) challenges in terms of available space in elementary schools." Elementary school enrolment has "exceeded projections by a significant amount" — 509 students, the report says.
There are 15,932 students enrolled in Grades 1 through 8 this year, an increase of 786 students.
School board chair Colleen MacPherson noted that "rapid growth like this puts increased pressure on our resources and facilities."
Kindergarten enrolment is up by nearly 100 students, from 1,847 to 1,942. There are about 610 students registered in pre-kindergarten, meaning 88 per cent of pre-kindergarten spaces are being used. The report notes this is unprecedented uptake.
Article content
Secondary school enrolment slightly dropped, from 8,784 to 8,776, but exceeded projections in several schools.
The report notes that the bulk of enrolment growth is happening in newer suburban neighbourhoods, "which makes it even more critical that capital and infrastructure needs are addressed in the upcoming years."
Among the projects on the division's provincial capital request list are a collegiate and elementary school in the Brighton neighbourhood and infrastructure projects at Walter Murray and Centennial Collegiates — the division's largest collegiates, at 1,507 and 1,430 students each.
MacPherson said the division hopes the enrolment gain will be met with a mid-year funding adjustment from the provincial government.
Article content
"The financial well-being of the school division is directly tied to annual enrolment," she said.
Saskatoon Public Schools uses provincial cash to ease some deficit measures

Province announces $20M in one-time funding for Saskatchewan school divisions
The news seems to be flying at us faster all the time. From COVID-19 updates to politics and crime and everything in between, it can be hard to keep up. With that in mind, the Saskatoon StarPhoenix has created an Afternoon Headlines newsletter that can be delivered daily to your inbox to help make sure you are up to date with the most vital news of the day. Click here to subscribe.