The children of an 88-year-old man who lost $2,500 to a phone scam are sharing their story to prevent it from happening to someone else.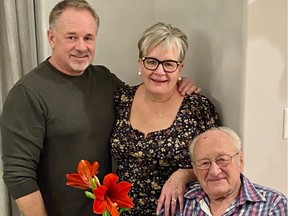 Article content
Judy King arrived at a credit union after staff called to say her 88-year-old father tried to withdraw $10,000 and blocked the taxicab that took him there with her vehicle.
Article content
The day before, on June 8, someone had booked Harold Empey three cab trips, promising him $250,000 and a truck in exchange for sending money in the mail.
The cabs took Empey, who has vascular dementia, which affects his memory and ability to do things on his own, first to his credit union to make withdrawals and then to a post office to send $2,500 to a stranger.
Staff at Empey's retirement home called King after they were unable to stop him from leaving. She and her brother Mitch Empey rushed to the credit union.
Hourly wellness checks had been implemented that day to prevent him from leaving. The credit union also called police. The siblings confronted the cab driver, got their father and Empey paid the cab fare.
King and Empey want to know how this could have happened. King explained that her father can't remember  from one minute to the next. He did not have a cellphone, she said.
"He would have had to have been prompted every step of the way, to go in to buy the express envelope, what to do at the bank," she said in a telephone interview along with her brother Wednesday.
King said her family is sharing the story to get people to talk about protecting their loved ones, particularly their vulnerable family members, from fraud.
"The only way that this gets anywhere is if people see it and if two families, one family takes steps to prevent this from happening to their people. It's important," Empey said.
Empey and King explained their father was called on his landline telephone at his retirement residence by a stranger who told him he won a prize, but he would receive it after he sent money to an address he was provided. A scammer arranged for taxis to pick him up, they said.
Article content
Empey provided the StarPhoenix images of two withdrawal receipts, one printed out at 2:04 p.m. for $500 and another at 3:07 p.m. for $1,900, both at the same teller and same branch on June 8. The remaining $100 sent was from Harold's wallet.
"That was all unbeknownst to myself or to Judy," Empey said.
Empey said he learned of this when his father called that evening. He said he'd won a prize in the STARS lottery and asked him to take photos of him receiving it, prompting Empey to rush over out of concern. He and his sister then worked to freeze his accounts, gather receipts and file a police report.
The manager of Captain Taxi, Philip Rivers, said in a telephone interview they received three calls. The first went to a dispatcher and the second and third were handled by the automated phone system.
He said he spoke with the driver, who told him he was given instructions by the customer and he was paid in cash.
"That's it. The driver picked (up) the customer and went to addresses where he want(ed) to go," he said.
Rivers said he listened to a recording of the first call and he spoke to the dispatcher. He said it sounded normal and not suspicious.
Canada Post, in an email, said if they had "any indication the customer was mailing cash we would have told them that we were not able to."
Affinity Credit Union financial crimes manager Amie Bregenser said in an email that employees are trained to pick up on red flags and uncharacteristic behaviours.
Article content
"In this situation, we immediately sensed that something wasn't right when Mr. Empey came in to perform another transaction, so one of our employees called his children and then the police. We took every precaution to ensure Mr. Empey was safe and he didn't fall victim to further fraud," she wrote.
STARS is aware of this scam and said in an email the volume of scams claiming to be affiliated with its lottery have increased. Lottery winners will never be asked to send money to claim a prize and prize winners will be mailed an official letter, it said.
Attempts to reach the owner of YXE City Cabs for comment were unsuccessful.
In an email to the StarPhoenix, Saskatoon police said no arrests have been made. The economic crime unit reviewed the file and it was assigned to patrol to follow up, and this investigation prompted a public service advisory, police said.
"These scams often involve VOIP phone numbers and false identities making them very difficult to successfully investigate," police said.
The news seems to be flying at us faster all the time. From COVID-19 updates to politics and crime and everything in between, it can be hard to keep up. With that in mind, the Saskatoon StarPhoenix has created an Afternoon Headlines newsletter that can be delivered daily to your inbox to help make sure you are up to date with the most vital news of the day. Click here to subscribe.