"We're just striving for excellence every week, just trying to get better and head into the playoffs. We're trying to win every day."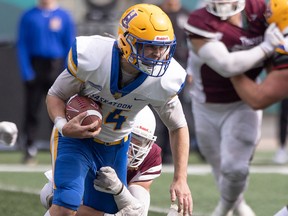 Article content
Jordan Bisson has been around the Saskatoon Hilltops long enough to know that people should never count them out.
Article content
The fifth-year Hilltops offensive lineman feels his team still has what it takes to make a lengthy playoff run despite what has been a bit of a roller-coaster ride this season.
Article content
"I think so, yeah — as the Hilltops especially, we've always got a shot," said Bisson, a 6-foot-2, 310-pound O-lineman from Saskatoon Walter Murray.
"We have a great coaching staff and all that leadership. We've definitely always got something going."
After a three-game skid which included a pair of losses to the Regina Thunder and a loss to the Winnipeg Rifles, the Toppers appear to be back on track after a convincing win this past weekend over the Calgary Colts.
The Hilltops (3-3) will close out the regular season with games against the Edmonton Wildcats and Calgary Colts.
Article content
They currently sit tied for third place in the Canadian Junior Football League's Prairie Football Conference with the Rifles behind first place Regina (6-0) and Edmonton Huskies (4-2).
"It seems like that, as a team, we've all stayed together through our ups and downs," said Bisson, one of five fifth-year seniors on the Hilltops O-line. "We haven't quit on each other this whole time. We've got a lot of older guys on our O-line, especially. We've been together for so long that we're not going to quit on each other.
"We're just striving for excellence every week, just trying to get better and head into the playoffs. We're trying to win every day."
Against Calgary last weekend, the Hilltops managed to rack up 269 yards rushing against the Colts to go along with 195 passing yards.
Article content
"It was nice to get our running game back into it," noted Bisson. "Us, as an O- line, take a lot of pride in our running game so it was great to get that back going.
"I thought everything went pretty well but we still have to stay hungry and try and get better every week."
Head coach Tom Sargeant said he is encouraged by what he saw last weekend as the Hilltops hope to make it two wins in a row this weekend in Edmonton.
"Certainly we made a lot of changes and players responded, so that always gets the coaching staff excited," said Sargeant. "We did a lot of good things. A lot of things we wanted to see, we saw. It's like anything. Once you get through it all, there are still areas of growth that we need to keep challenging and pursuing but, hey, any time you get a win, you're going to practise a little lighter, a little better with more confidence around here. Those are all good things."
Article content
Still, there is room for improvement in all phases of the game.
"I certainly want to continue to see the growth along the offensive line of scrimmage. We want to run the ball and we need Boston (Davidsen) and Carter McLean to be significant factors to our success. Trey (Reider) is going to start again this weekend (at QB) after his first start last week. We're excited with that. We want to see the development there," added Sargeant.
"Then there's the receiver play. Noah Flaman certainly stepped up and made some plays and Drake Douglas has come in and provided us with something. It's a pretty strong group to begin with but these young players have stepped up.
"Defensively, we did a pretty good job of stopping the run and forced Calgary to throw the ball. They made a few plays, but we want to see our pass coverage continue to develop. Special teams need to play that more physical.
Article content
"That's where we're at. We've got two weeks to keep moving things around and hopefully get it to click the way it needs to click. I had to make a tough decision last week by putting Trey in, but at the end of the day, it looks like it was a good move."
The news seems to be flying at us faster all the time. From COVID-19 updates to politics and crime and everything in between, it can be hard to keep up. With that in mind, the Saskatoon StarPhoenix has created an Afternoon Headlines newsletter that can be delivered daily to your inbox to help make sure you are up to date with the most vital news of the day. Click here to subscribe.