Council is expected to go over guiding principles for an arena district, address a $9 million budget shortfall, and vote on a plan to bring e-scooters to Saskatoon.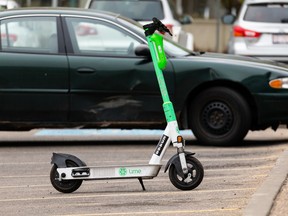 Article content
The process of getting a detailed and costed proposal for a downtown arena in front of city council for a vote continues Wednesday at City Hall.
Article content
Council will gather for its March general business meeting, including discussion of a document meant to guide the creation of a master plan for a proposed downtown entertainment and event district (DEED), centred on a new arena and new or renovated convention centre.
Article content
Council is also expected to vote on a plan to address the last fiscal year's deficit, and a package of amendments to enable an e-scooter program.
ARENA PLAN
Council is expected to vote on a final draft for a vision statement and a set of guiding principles to help guide the creation of a master plan for the DEED. The master plan is to cover the design of public space around the proposed arena and convention facilities, such as streets and plazas. The plan would also cover the transportation network around the site, and underground and surface utilities and upgrades.
Article content
The master plan is expected to go to council for a vote in the second quarter of 2024. This is just one of the elements council will need to approve on the path to a final vote on whether to proceed with the DEED project.
Other elements, such as a plan to pay for construction, and a decision on a private partner to potentially run the new facilities, are not yet completed.
DEFICIT
The city faces a deficit of roughly $11 million from the 2022 fiscal year. City staff have said the cause include inflation, carbon taxes, fuel costs and revenues still depressed across various departments since the 2020 arrival of the COVID-19 pandemic.
City planners have put together a plan for council's approval that would draw about $9 million from reserves, with $6.68 million coming from the fiscal stabilization reserve.
Article content
The remaining $2 million of the deficit is related to heavy snowfall which pounded Saskatoon in late December; council previously voted to approve borrowing to cover these costs.
E-SCOOTERS
Council will vote on proposed bylaw amendments to enable a pilot project for businesses to rent out e-scooters in Saskatoon.
City council approved in November a two-year pilot project to have two companies offer rentals of the vehicles, starting this spring. The companies were to be selected through an open bid process.
The proposed program includes regulations meant to promote safety and prevent e-scooters from becoming a nuisance to other road and pathway users. These include a requirement for riders to be at least 16 and to wear a helmet. Technology in the scooters will restrict them to a maximum speed of 24 km/h, with people's first rides restricted to 15 km/h.
Phil Tank: Saskatoon city hall plays long game on intersection change

Test ride: E-scooter pilot project coming to Saskatoon next year

Saskatoon council approves debt to pay for citywide snow clear
The news seems to be flying at us faster all the time. From COVID-19 updates to politics and crime and everything in between, it can be hard to keep up. With that in mind, the Saskatoon StarPhoenix has created an Afternoon Headlines newsletter that can be delivered daily to your inbox to help make sure you are up to date with the most vital news of the day. Click here to subscribe.