The Saskatchewan Roughriders suffered their first loss of the 2022 season, losing 37-13 to the host Montreal Alouettes on Thursday.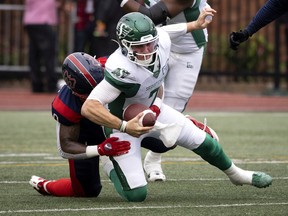 Article content
MONTREAL — The road-weary Saskatchewan Roughriders were no match for the fresh legs of the Montreal Alouettes.
Article content
Playing their second game in a span of five days, the Roughriders were beaten 37-13 at Percival Molson Stadium on Thursday.
With injured centre Dan Clark sidelined due to a broken right fibula, Saskatchewan surrendered eight sacks.
The result dropped the Riders' record to 2-1. The Alouettes improved to 1-2. The teams are to meet again July 2 at Mosaic Stadium.
The Alouettes jumped on the Riders early when Chandler Worthy returned the opening kickoff 88 yards for a touchdown. After David Cote's convert, the Riders trailed 7-0 just 13 seconds into the first quarter.
That was as close as the Riders would get as the Alouettes raced into a 23-3 halftime lead. Trevor Harris connected with Kaion Julien-Grant on a 70-yard touchdown pass. Cote converted that major as well as connecting on first-half field goals of 21, 48 and 16 yards.
The Riders didn't help their cause by being penalized 12 times for 106 yards. The Alouettes were flagged five times for 40 yards. The Green and White came into the contest leading the CFL in penalties (23) and yards penalized (219).
The penalties ran the gamut from offside to objectionable conduct to holding.
The Riders surrendered a defensive touchdown on an interception return by Marc-Antoine Dequoy at 11:53 of the third quarter. Cote converted the major and the Alouettes led 30-6.
Rider quarterback Cody Fajardo connected with Duke Williams, only to have the ball bounce off a sliding Williams into the hands of Dequoy.
Article content
Montreal added two more field goals in the fourth quarter to grab a commanding 37-6 lead.
Fajardo completed 17 of 28 passes for 191 yards and threw his first two interceptions of the season before giving way to Mason Fine. Harris completed 16 of 22 passes for 262 yards and one touchdown.
Fine capped a long drive with a five-yard touchdown pass to Williams late in the fourth quarter. Lauther, who booted field goals of 40 and 21 yards, converted the touchdown, but it was too little too late.
The sports world is ever-changing, as are the times. Supplement your steady diet of sports coverage by subscribing to the Regina Leader-Post's 306 Sports Fix newsletter. Each week, sports editor Rob Vanstone will provide additional commentary on the Roughriders, Pats and other teams/sports of interest, along with a peek behind the curtain. Click here to subscribe.