"We show up with juice, we show up and play hard, we show up and play together, we show up and take care of the ball. I like my chances against any team."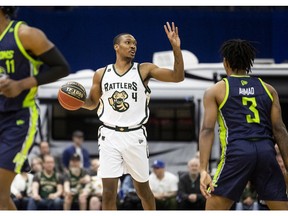 Article content
The Saskatchewan Rattlers find themselves back playing below the rim, not above it.
Article content
Thanks to a four-game losing skid, including three straight losses during a brutal East Coast road swing, the Rattlers have slipped below the .500 mark with a 7-8 record.
Prior to that road swing, Saskatchewan had won four straight and five of six games to climb into a top-three spot in the Canadian Elite Basketball League standings.
The Rattlers have now fallen to sixth place as they find themselves fighting for playoff berth with five games remaining in the regular season. The next two are on home court, starting with a rematch against the visiting Ottawa Blackjacks, who embarrassed the Rattlers this past week with a 51-point margin of victory in Ottawa, 101-50.
Game-time is 7:30 p.m. Thursday at SaskTel Centre.
"We show up with juice, we show up and play hard, we show up and play together, we show up and take care of the ball. I like my chances against any team," said Rattlers head coach Dean Demopoulos, whose team has lost just twice at home this season.
The Rattlers are back in Saskatoon for a three-game home stand after a head-scratching road swing that included games in Newfoundland, Ottawa and back to Newfoundland over seven days.
"Wasn't easy," admitted Demopoulos, "but they're all tough. Every team has stretches of the season where they feel like they have an extraordinary trip or something like this. The way it was done, we went back and forth and back and forth and back and forth. There's obviously reasons for that, I would think. I don't think you plan it like that unless there's a good reason for it.
Article content
"Right now, just like we won four, you lose four. So it's the way this stuff goes sometimes."
Tony Carr — who led the Rattlers with 26 points in an 81-74 loss Tuesday night to the Hamilton Honey Badgers at SaskTel Centre — sees a basketball temporarily half-inflated, not half-deflated.
"People who know basketball know that sometimes it's not always about winning or losing. It's about jelling at the right time," Carr said.
"The last two games, I think we didn't come out in the winner's category but we have positive things to take from the game. I feel like we can just hone on them, hone on anything we can do better going into the last five games of the season and we'll be fine.
"It's great to come home. I don't have any negative answers for you, man. The CEBL scheduled the flights. That's what we signed up to do. We've got the best job in the world playing basketball. We've just got to make it work."
One area the Rattlers are more focused on is trying to clean up too many turnovers; they gave up 15 to Hamilton.
"I focused on that from the first time I ever talked to these guys and it hasn't manifested itself for this team like it has in the past for other teams that I've been involved with," admitted Demopoulos. "We're continuing to work on it.
"We're not doing a very good job of passing and catching, plain and simple."
Added Carr: "Everything's not going to be perfect. When you hit adversity, I feel like that's when it shows how tight you are with your group. It's a tight group. We never point fingers or get down on each other. We just try and pick each other up. The more we can continue doing that, take care of the ball, we'll be better off."
The news seems to be flying at us faster all the time. From COVID-19 updates to politics and crime and everything in between, it can be hard to keep up. With that in mind, the Saskatoon StarPhoenix has created an Afternoon Headlines newsletter that can be delivered daily to your inbox to help make sure you are up to date with the most vital news of the day. Click here to subscribe.