Chief Medical Health Officer Dr. Saqib Shahab says residents should continue to do "their own personal risk assessment" over the summer months.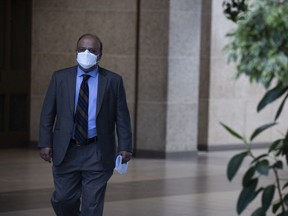 Article content
The provincial government will begin transitioning COVID-19 reporting to a monthly schedule starting next month.
The last weekly report will be released on June 30. After that, a three-week report for the period of June 26-July 16 will be released July 21. The first report with one month of data will be released Aug. 18.
The report will continue to be posted to the Government of Saskatchewan website at 1:30 p.m. on Thursdays.
"In recent weeks, COVID-19 surveillance indicators suggest a decreasing trend in COVID-19 infections," the Ministry of Health said in a media release. Chief Medical Health Officer Dr. Saqib Shahab noted that the frequency of reporting could still be adjusted as the province continues to monitor trends in COVID-19 data.
Shahab said that residents should continue to do "their own personal risk assessment" over the summer months, considering the use of a mask and being up to date on COVID vaccines and booster doses.
He recommended improving ventilation if hosting a crowded indoor event, "or better still, spend(ing) time outdoors during our great Saskatchewan summer."
Article content
Twelve more Saskatchewan residents were reported dead of COVID-19 on Thursday, with southeast Saskatchewan reporting the highest death rate. That brings the total since the pandemic started to 1,424 deaths, with 469 (approximately 33 per cent of the total) reported this year.
The Ministry of Health's latest epidemiology report says three of the newly reported deaths happened in the latest reporting period due to a "lag" in death data. The remaining nine occurred between February 20 and June 11.
It continues a similar trend from last week, when the government said 15 fatalities added to the record may have happened as far back as September 2021. That missing information was discovered by a "regular audit process."
Hospitalizations have continued to trend downward, from 165 residents in hospital to 157, with five in critical condition as of Wednesday. That number has continued to decline since reaching a peak in April.
There were two confirmed COVID-19 outbreaks in long-term care homes reported in this period, down from five. One was in the Saskatoon zone and the other in the southeast zone.
From June 12 to 18, only 4,141 doses of vaccine were administered and nearly 90 per cent of those were booster doses. The portion of people aged 12 and older who have received a third "booster" shot remained stable from last week at about 49 per cent.
COVID-19: Sask. death toll now exceeds 1,400; new medication approved

U of S to pause on-campus mask mandate
The news seems to be flying at us faster all the time. From COVID-19 updates to politics and crime and everything in between, it can be hard to keep up. With that in mind, the Saskatoon StarPhoenix has created an Afternoon Headlines newsletter that can be delivered daily to your inbox to help make sure you are up to date with the most vital news of the day. Click here to subscribe.