On Wednesday, Stewart described the invitation to Thatcher as "my decision alone."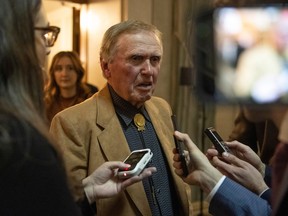 Article content
After avoiding media questions Wednesday, Saskatchewan Party MLA Lyle Stewart admitted to inviting convicted murder Colin Thatcher, "a constituent and long-time friend," to the Throne Speech.
Article content
"In retrospect, this was an error in judgment as his presence was a distraction from a very positive and forward-looking Throne Speech, which included a number of new initiatives to keep Saskatchewan families safe in their communities," Stewart said in a written statement issued Thursday morning.
Article content
After he left the chamber, Thatcher, a one-time MLA and former Tory cabinet minister, told reporters he was invited by Stewart, the Lumsden Morse MLA, to attend the annual ceremony.
Thatcher was convicted in 1984 of first-degree murder in the death of his ex-wife, JoAnn Wilson, after she was beaten and shot in the garage of her Regina home in the midst of a protracted custody and divorce battle.
"We are old friends," Thatcher said when referring to Stewart, while he stood beside one of his acquaintances after the speech. "We are happy to come down."
Article content
He declined to take further questions.
On Wednesday, Stewart described the invitation to Thatcher as "my decision alone."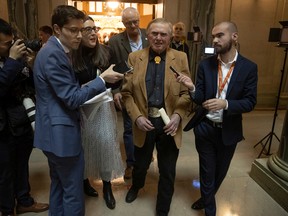 Stewart, a former Saskatchewan agriculture minister, has also been involved in addressing the province's economic autonomy concerns. Reporters had asked to interview him, but he was not made available.
Instead, Saskatchewan Public Safety Minister Christine Tell said it shouldn't matter that a fellow caucus member invited Thatcher as a guest.
"He has now paid that debt to society … and he is living his life as a citizen of our province," Tell said. "He has a right to be here. It doesn't matter. He has a right to be here like anyone else. He is a free citizen."
Tell was asked whether Thatcher's invitation appears problematic given the province has one of the highest intimate partner violence rates in the country.
Article content
Statistics Canada data from 2021 shows the province's domestic violence rate is more than double the national average. Advocates have said more programs are needed to help people feel safe in their communities.
Tell again said that while Thatcher was found guilty, he went through the court system and is now a "free citizen." She described him as "infamous."
Noting the province's high domestic violence rate, NDP Leader Carla Beck told reporters she believes people will be shocked to learn an invitation was made.
"I'm not out here to defend their reasons for inviting Mr. Thatcher. I do think that is remarkable, again on a day when the government is talking about getting tough on crime," she said.
"I would ask the government to hold themselves to the same standards, be a little less hypocritical on (domestic violence) and frankly dig in and actually deal with the issue of domestic violence."
— with files from Jeremy Simes and Barb Pacholik 
A Moment in Crime: The murder of Colin Thatcher's ex-wife, JoAnn Wilson

True Crime Byline: We should have seen JoAnn Wilson's murder coming
The news seems to be flying at us faster all the time. From COVID-19 updates to politics and crime and everything in between, it can be hard to keep up. With that in mind, the Regina Leader-Post has created an Afternoon Headlines newsletter that can be delivered daily to your inbox to help make sure you are up to date with the most vital news of the day. Click here to subscribe.