The province is poised to unleash new crushing plants as more countries demand canola oil and meal.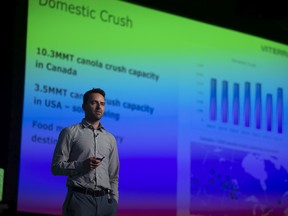 Article content
Millions of more tonnes of Canada's canola crop may soon be crushed for oil, marking a big shift for the industry in Saskatchewan.
Article content
Speaking at Canada's Farm Show on Wednesday during a panel discussion, Bo Hallborg with Viterra explained the country could go from crushing half to roughly 90 per cent of the crop should multiple crushers come on line over the next few years.
"It's a very drastic change," said Hallborg, who works in oilseed processing merchandising for Viterra. "It's going to be a very exciting time to be in the canola industry."
The big change stems from growing demand for canola oil and meal across the globe.
Many developing countries are changing their appetites by requiring more foods that use canola oil and meal. As well, more governments are changing their clean fuel standards, which has prompted more interest in using canola to create biodiesel.
It has resulted in huge planned investments for Saskatchewan.
Five companies have announced they will build or expand canola crushers in the province, largely around the Regina area, including Viterra, Richardson, Ceres and Cargill.
Further, Federated Co-operatives Ltd. is looking to build by 2027 a $2 billion agriculture complex that features a biodiesel plant and canola crusher. The company partnered with AGT Foods on the crusher.
For Viterra, Hallborg said it will massively expand the company's crush footprint.
He said Viterra has three facilities in North America crushing about 1.7 million tonnes. The new Regina facility is targeted to crush 2.5 million tonnes, which would bring the company's total to around 4.2 million tonnes.
Article content
Viterra has said previously the plant is targeted to be operational by 2024. Hallborg said it's currently in the engineering stage.
"(Construction) is targeted to begin soon, but it kind of depends on supply chain issues," he said.
Canadian farmers produce about 20 million tonnes of canola annually, according to the Canola Council, with Saskatchewan producers accounting for about 11 million of those tonnes.
About 10 million tonnes are currently crushed. Once the new crushers are built, 17 million will become oil.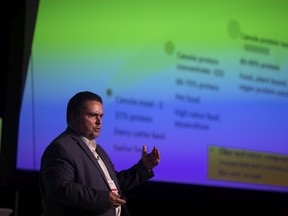 As a result, more oil will mean more meal. Researchers in the province are hoping they can find ways to turn that meal into protein isolates, which are considered more valuable.
"We can help the crushers to build additional plans around the proteins so that these products can be sold and we can increase more jobs," said Mehmet Tulbek, the president of the Saskatchewan Food Industry and Development Centre. "If you can do it in Saskatchewan instead of shipping it out, that would be great."
Despite the progress, this entire shift will likely impact the country's transportation network.
With increased oil and meal production, Hallborg said Viterra may need to do more transportation. Typically, canola seed is transported by rail and shipped out at ports.
"There's going to be a massive need for additional infrastructure for that, whether it's in the form of additional leased cars or more track capacity," he said.
Article content
During the panel discussion, moderator Cherilyn Jolly-Nagel questioned whether Canada's transportation system is up to the task to handle growing demand.
Jolly-Nagel, who farms near Mossbank, said Canada's reliability as an exporter has fallen from the top-10 to No. 32, adding that buyers' confidence may have wavered because of past blockades, labour strikes, lack of infrastructure and bottlenecks.
"Even though we're doing all of this good work and we can deliver the product, we're not reliably shipping it and meeting those needs," she said.
She asked Hallborg, "does that keep you up at night?"
He said the transportation system is largely out of the company's control, adding that the weather (particularly in winter) can hamper the movement of goods.
"With another seven million tonnes of canola production, it's likely going to be some more road traffic and rail traffic," he said. "It's always at the root of the success of our business, and we'll continue to do so."
The news seems to be flying at us faster all the time. From COVID-19 updates to politics and crime and everything in between, it can be hard to keep up. With that in mind, the Regina Leader-Post has created an Afternoon Headlines newsletter that can be delivered daily to your inbox to help make sure you are up to date with the most vital news of the day. Click here to subscribe.