Dr. Shaun Ladham testified about the cause of death during the second week of Ranbir Dhull's first-degree murder trial in Saskatoon.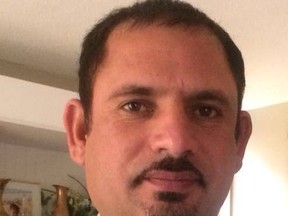 Article content
When Samandeep Jhinger was discovered in a Warman basement, bound and hidden, she had been strangled to death, Saskatchewan's chief forensic pathologist told a Saskatoon murder trial.
Article content
On Wednesday, Dr. Shaun Ladham testified that Jhinger's cause of death was ligature strangulation. The Crown is trying to prove she was killed after she was tied up, which constitutes first-degree murder under the criminal code.
Article content
However, Ladham could not say if the twine was tied around Jhinger's wrists and legs before or after she died.
A pair of pants and a scarf were tightly wrapped around her neck when officers found her in a space beneath a shelf, behind a rolled-up carpet and under a piece of heavy black plastic on July 3, 2020.
Jhinger, 23, was reported missing the day before. Court heard she had been living with her cousin, Amandeep Kaur, and vanished while looking after Kaur's children.
She was helping Kaur with her children because Kaur had a no-contact order against her ex-husband, Ranbir Dhull, who wasn't living at the family home at the time.
Article content
Dhull, 44, is charged with first-degree murder in Jhinger's death. His judge-alone trial has entered its second week at Saskatoon Court of King's Bench.
Last week, Malik Draz testified that Dhull, a fellow taxi driver, told him he killed his wife's relative, put her body in the basement and was trying to dispose of it. Draz said Dhull complained that "they" wanted to "take over" his life, and mentioned something about gold and jewelry.
Jhinger's wrists were tied to her legs to prevent them from moving, Ladham said. Court heard one piece of the twine from her body was tied to a structure on the shelf.
There were also layers of white tape covering Jhinger's nose and mouth. Ladham said this could have caused some degree of suffocation, but he couldn't say when the tape was applied.
Article content
Cpl. Christopher Damen, a forensic identification officer specializing in fingerprint analysis, testified earlier in the trial that a print left on the non-adhesive side of the tape matched Dhull's print.
Under cross-examination, Ladham said Jhinger's wrists were tied, but her hands were free. He told court that there were no obvious defensive wounds on her body.
Defence lawyer Andrew Mason asked if ligature strangulation can be caused by an assailant who is less powerful than their victim.
"It does not take much pull to cause death," Ladham said, adding it only takes about 10 to 15 seconds for someone to go unconscious, and about two to three minutes for death to ensue.
Crown prosecutor Tyla Olenchuk closed her case on Wednesday. The trial is expected to continue on Nov. 7 and 8, when Mason said he will call evidence.
Article content
Samandeep Jhinger vanished while taking care of accused killer's children, trial hears

First-degree murder trial hears woman's body was bound, hidden in Warman basement

Saskatoon man charged with first-degree murder in 23-year-old woman's death
The news seems to be flying at us faster all the time. From COVID-19 updates to politics and crime and everything in between, it can be hard to keep up. With that in mind, the Saskatoon StarPhoenix has created an Afternoon Headlines newsletter that can be delivered daily to your inbox to help make sure you are up to date with the most vital news of the day. Click here to subscribe.