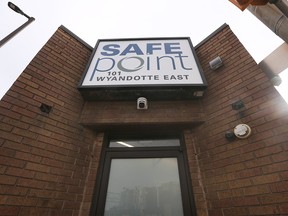 Article content
Windsor's life-saving drug consumption and treatment site will close its doors in the new year amid a province-wide pause on new funding approvals, the health unit has announced.
During budget deliberations on Monday morning, the Windsor-Essex County Health Unit's board of directors voted unanimously to put SafePoint on hold starting Jan. 1 until the province provides sustainable funding for the site.
Article content
"It was an extremely difficult decision for the board, especially knowing that month after month after month, (visitor) numbers were going up," said board chair Fabio Costante. "The usage was going up, we were helping people — it's a very difficult decision."
Just last week, SafePoint staff reversed an overdose on site and saved a person's life, said Costante, who is also Windsor's Ward 2 city councillor.
The only ways to keep the site at 101 Wyandotte St. E. open, he said, would have been for the health unit to "drastically" increase its funding ask of the City of Windsor and County of Essex, or to reduce its funding for "critical" public health programs.
Since it opened on April 26, SafePoint has had 859 visits from 182 unique individuals.
In its first month of operation, the site was visited 64 times. That number grew to 258 in October.
Less than half of October's visitors showed up to use drugs, Costante said. Dozens of clients have been referred to mental health and addiction treatment, and many received primary health care on-site instead of visiting emergency rooms.
Article content
The health unit has been paying to run SafePoint with the expectation that provincial funding was going to kick in this summer — funding that has yet to arrive.
SafePoint costs approximately $700,000 per year to operate.
In October, the province announced it would halt approval of new supervised consumption and treatment services centres pending a "critical incident review" launched after the July 7 death of Karolina Huebner-Makurat, 44, who was struck by a stray bullet while walking near a consumption site in Toronto's east end.
An estimated 17 sites across Ontario have been granted provincial funding and will not be affected by the provincial review and the associated pause on approvals for new funding applications.
Windsor's SafePoint opened on April 26 and has not been approved for provincial funding. Centres in a few other cities, including Timmins, Sudbury, and Barrie, are in similar situations.
"The lack of certainty related to the timelines of the provincial review and unknown implications on our application and funding place the health unit in a position where it no longer can fund the operations beyond December 31," said Ken Blanchette, health unit CEO.
Article content
Related Stories
Health board head urges leaders to lobby province for SafePoint funding

Province-wide review leaves Windsor's safe-injection site facing uncertain future
Blanchette said he's concerned that SafePoint might not reopen at all.
"We are following (the province's) pause and we are hopeful that the province's investigation is quicker, rather than a lengthy process," he said.
"We need to make sure that we respect the fact that they need to do their due diligence as well."
Over the next month and beyond, the health unit will emphasize the importance of a timeline to the Ministry of Health, "so that responsible decisions can be made around the future of this site," Blanchette said. Staff will also notify clients about SafePoint's pause, and support them in accessing alternative supports for crisis, treatment, harm reduction, and safer drug consumption guidance.
Also on Monday, the board of health approved a budget for 2024 of nearly $25 million, including roughly $17.74 in base funding from the Ministry of Health and nearly $7.22 million from the City of Windsor, County of Essex, and Township of Pelee. The municipally-funded portion of the budget rose by 1.29 per cent — approximately $95,000, with the city required to pay $50,000 and the county and Pelee required to pay a combined $45,000.
Blanchette said "limitations" in the health unit's budget will restrict its ability to "fully commit" to all of its programming. There will be some reductions in services, but those won't be made public until after "conversations internally over the next few weeks."