The nickname/brand dates back 163 years, to when New Westminster was only a year old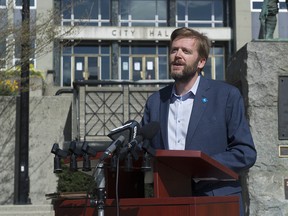 Article content
New Westminster was named by Queen Victoria in 1859, and has been known as the "Royal City" ever since.
Article content
But this is about to change, at least officially. Monday night, New Westminster council voted to rebrand the city and look for a new motto.
Deane Gurney of the New Westminster Heritage Preservation Society was surprised.
"I don't know if anybody's been consulted on this, but I know we have not been consulted at all," he said.
"So this all came as a big surprise to us. We're not in favour of it, because the Royal City has been branded in the province. … We've got over 100 years of being the Royal City, and everybody knows where it is."
New West Mayor Jonathan Coté made the motion to rebrand the city, which was originally called Queensborough when it was founded in 1858.
Coté — who is not seeking reelection this year —  said there was a discussion about getting rid of the Royal City moniker several years ago, but it was nixed after "quite a bit of community pushback."
Article content
But he feels things have changed, given the current move to reconciliation with Indigenous communities.
"I think there has been a growing recognition the Royal City moniker may not be inclusive or really represent not only the current diverse nature of New Westminster, but also its full history that goes well beyond British settlement there," he said.
"From my perspective, I thought this was a good time to be engaging in that discussion, and starting the process for the city to evolve its city branding."
But Gurney doesn't see it as much of an example of reconciliation with First Nations.
"I don't think this is what natives are thinking about as reconciliation, changing your name," he said. "What they are looking for, in my understanding anyway, is a recognition of what has happened to them since white settlers came to Canada, and the treatment they have received over that period of time.
Article content
"Changing the name to whatever. … Does that mean we have to take British out of British Columbia? How far are we going to go on this?"
But Rhonda Larrabee of the Qayqayt First Nation thinks rebranding is "a wonderful idea."
Larrabee is the chief of the Qayqayt, which almost became extinct after its reserve was closed in 1916 and its members scattered around other First Nations.
"The fact is there were many permanent residents of New Westminster who were Indigenous, and were summarily ousted from the land in 1916 from the McKenna-McBride commission," said Larrabee.
She said historically the Qayqayt lived "right on the river below the Woodlands site." But they were moved to the other side of the Fraser River and then to Poplar Island before being dispersed.
Article content
The First Nation currently has no land and only 15 members, but made a land claim in 2012 that Larrabee said is supposed to be settled in the next three years.
New West historian Archie Miller said the idea of rebranding is complicated, given New West's history.
"I can understand why they're thinking of making the change," said Miller. "You can understand the importance of that to the Indigenous people, what it meant, the things that happened at that time.
"But (being called the Royal City) is a major part of our history. You can't just dump it and say we're not going to deal with that anymore and never use the term again. You can't see that happening."
In fact, numerous private companies currently use the Royal City name, such as Royal City Taxi, the Royal City Mall and Royal City Jewellers and Loans. So the name won't disappear overnight.
But the royal crown on New West's letterhead and website will probably disappear fairly soon.