Vernon Adams Jr. thew for a CFL season-high 458 yards against the Riders on Friday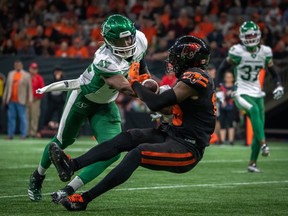 Article content
The Saskatchewan Roughriders were picked apart by Vernon Adams Jr. and the B.C. Lions on Friday night, losing 33-26 in Week 17 of the CFL season. 
Adams Jr. completed 27-of-36 passes for a CFL season-high 458 yards with three touchdowns, while becoming the first quarterback in the CFL to pass for 4,000-plus yards this season. 
Article content
"He's a good football player, if you don't play really well he can hurt you," Riders' head coach Craig Dickenson said after the game. "I think he's one of the best players in the league and one of the best guys in the league."
Article content
The loss marks the fourth straight for Saskatchewan as they fall to 6-9 on the season while the Lions improve to 11-4, while also securing a home playoff game. 
"They're tied for first in the West for a reason," said Dickenson. "They're solid top to bottom, they don't make a lot of mistakes and they're a tough out.
"We play well at times but we make mistakes in critical times and allow teams to score too easily or turn the football over offensively."
Adams Jr. had the Lions rolling early in the game but the Saskatchewan defence was able to hold B.C. to two field goals in the first quarter as the Lions led 6-1 through 15 minutes. 
B.C. would add another field goal in the second quarter before the Riders' offence came to life. 
Quarterback Jake Dolegala — making his sixth start of the season for the Riders — made long completions to Frankie Hickson, Shawn Bane Jr. and Samuel Emilus before short-yardage QB Antonio Pipkin punched it in to make it a 9-8 game on the eight-play, 95-yard drive. 
After the teams traded field goals, the Lions increased their lead as Adams Jr. connected with Keon Hatcher for a 34-yard touchdown to make it 19-8. At the half, Hatcher had eight catches for 148 yards and a touchdown going up against Derrick Moncrief, who was starting at halfback for the Riders in place of the injured Trumaine Washington. 
Article content
In the third quarter, the Lions increased their lead as Adams Jr. found a wide-open Alexander Hollins for a 71-yard touchdown pass to make it 26-11. 
The Lions added another touchdown on their next drive as Adams Jr. and Hollins connected on a five-yard score to make it 33-11. 
Late in the fourth quarter, Dolegala put together a seven-play, 73-yard drive, capped off with running back Thomas Bertrand-Hudon scoring from two yards out at the Riders made it a 33-19 game with 1:17 to go. 
The Riders recovered the ensuing onside kick and proceeded to score another touchdown, as Dolegala put together a six-play, 61-yard drive, as Bertrand-Hudon scored his second touchdown of the night to make it 33-26 with the convert. 
With 10 seconds to go, the Riders couldn't recover a second onside kick and B.C. secured the win. 
"Too little, too late and it's just not good enough," said Dolegala, who finished 31-of-46 for 409 yards with one touchdown and two interceptions. "My job is to score one more point than them … We've got to be able to match that and do one better.
"We didn't do that tonight."
Article content
It's not only Saskatchewan's fourth straight loss, but sixth straight on the road. And while the locker room is down, they haven't given up as the team still sits in a playoff position.
"We're not going to turn against one another," said receiver Kian Schaffer-Baker, who had nine catches for 104 yards. "We're all picking each other up and we're focusing already onto next week.
"We can't do anything about what's already happened; all we can do is look forward."
"We're just going to try to stick together as best as we can," echoed safety Jayden Dalke, who had eight tackles in the loss. "If we separate at this point, it's not going to do anybody any good.
"We're still unified. We're just trying to figure out what we can do to flip this around."
The Riders will get a chance to get out of the current skid in Week 18 as they host the Hamilton Tiger-Cats next Saturday (5 p.m.) at Mosaic Stadium.

"We've got to start playing with some confidence," said Dolegala. "Just execute.
"Nothing has to change drastically. We're not going to change the scheme or anything like that because we have the players, we have the scheme, we've just got to go out and do it."
Article content
And while it's up to the players to execute, Dickenson — who is in the last year of his contract — is taking some of the blame for the lack of success in the last four weeks.
"I've got to do a better job of preparing the team," said the head coach. "Ultimately at the end of the day, it falls on me.
"If we don't do well this year, I'm sure there will be some consequences for that and that's just what you sign up for when you become a coach."
Related Stories
'I don't think I've scratched the surface': Roughriders QB Jake Dolegala opens up about his future

Roughriders' Christian Albright alright with CFL debut