In this Thursday's debate, anglophone community concerns were articulated loudly and passionately by the Liberal leader. Skeptics may see it as a political move, but it certainly was nice to hear that message on that stage.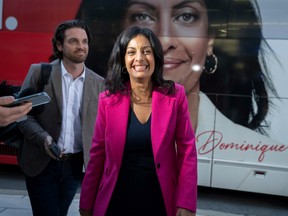 Article content
The final Quebec election leaders' debate is in the books. There was no debate in English, as both the outgoing governing Coalition Avenir Quebec and the Parti Québécois refused to participate, evidently seeing little benefit in acknowledging the anglophone community.
Article content
Members of the community are, of course, affected by issues related to health care, the cost of living and education, and watch the French debates. When issues of language and identity come up, though, you can't help feeling that our point of view is not only irrelevant, but that we are portrayed as a problem for Quebecers. Anglophones, despite being here for generations, are inexorably linked to the "decline" of the French language, as are immigrants. Just for Laughs co-founder Andy Nulman wrote in La Presse last week that our community has never been as invisible as it is now, yet we're still scapegoats. Blaming or penalizing minority communities won't help protect the French language when the real culprits are the digital universe and U.S. media machine, he wrote.
Article content
Nonetheless, on these issues, the debate typically revolves around how to strengthen laws regarding language and identity, and how to transform immigrants into francophones, social engineering that won't solve the real threats to French.
In this Thursday's debate, however, our community's concerns were articulated loudly and passionately by Liberal Leader Dominique Anglade. Many in the community have not been overly taken by her leadership and very upset at the Liberals for their flip-flops on Bill 96 and their CEGEP amendments that made it worse. They've been considering the alternatives. But if they were watching this debate, it would have been difficult not to have been impressed by her courage and conviction. In front of an enormous francophone audience, Anglade came out swinging against Bill 96, saying that the protection of French should not be at the expense of the anglophone community. She attacked Bill 21, the religious symbols law, and unapologetically reaffirmed the party's commitment to federalism, suggesting that both Quebec Conservative Leader Éric Duhaime and François Legault could eventually vote either way. Neither categorically denied it.
Article content
Some skeptics may conclude her plea was an attempt to shore up her support among minority communities, but it certainly was nice to hear that message on that stage.
Anglade's strong performance extended into other areas, as well. On daycare, for example, she had Legault clearly on the defensive, accusing him of penalizing women by failing to provide sufficient spaces.
Legault was also against the ropes on several other occasions being hammered by his opponents. His initial game plan was clearly to go after Québec solidaire co-spokesman Gabriel Nadeau Dubois, accusing him of living in a "wonderland" when it came to various issues related to the environment. Nadeau-Dubois deftly turned the tables each time, accusing the outgoing premier, for example, of using Halloween decorations to scare Quebecers. On several issues, he articulately spoke about the need for new ways of doing things, subtly suggesting Legault is yesterday's man.
Article content
Legault was also shaken by exchanges with Duhaime on the viability of the proposed tunnel between Lévis and Quebec City and whether proper studies were actually done. He also seemed very uncomfortable facing off against PQ Leader Paul St-Pierre Plamondon, who was pressuring him from the other side in not going far enough in protecting the French language and identity. You almost got the impression Legault agreed with him but couldn't admit it.
The effectiveness of Legault's opponents on this night certainly consolidated their respective bases and may start to move the needle. With a week to go, is it too little too late and is the opposition still too evenly divided? The plot thickens.
Robert Libman is an architect and building planning consultant who has served as Equality Party leader and MNA, as mayor of Côte-St-Luc and as a member of the Montreal executive committee. He was a Conservative candidate in the 2015 federal election. twitter.com/robertlibman
Robert Libman: Solid performances at Quebec election debate

Final Quebec election debate: Leaders battle over taxes, immigration, a referendum and Bill 96

Debate analysis: Barbs fly as Legault goes on the attack to keep his job