An honest citizen telling a government worker "in good faith," that they are entitled to English services will suffice to get them over the French-only hurtle rules of the new language law which starts being applied June 1.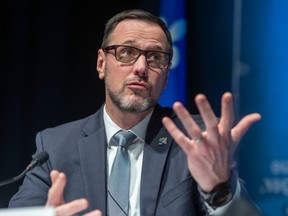 Article content
QUEBEC — Just saying you are an anglophone with existing language rights will get you government services in English under Quebec's new language law, Bill 96, the minister responsible for the French language said Wednesday.
Article content
"It will be self-identification," Jean-François Roberge said in an interview with the Montreal Gazette Wednesday. "In other words, a statement made in good faith.
Article content
"We are not doing cards or certificates or anything like that. This should reassure quite a few people I think.
"We presume the person will launch a conversation in English with the state (ministry, agency or employee behind the counter). They might be asked if they are in the category (with acquired rights). We then accept a statement, made in good faith.
"There is still a message to send. The law has to be applied. The government and the state and organizations have to be exemplary (in the use of French). People have to be aware of this.
"But in the application we aren't going into any kind of witch hunt. We are sticking with good faith."
Article content
An unanswered question throughout the year-long process to adopt Bill 96 overhauling the French Language Charter, there has been speculation the government would require members of minority communities to produce identification cards proving they fit into the exempt category to get services.
Bill 96's French-only rules include specific exemptions for four groups: those with acquired rights by virtue of the fact they are eligible for English language schooling, members of Indigenous nations and the Inuit, new arrivals who have lived here for less than six months and persons living outside Quebec.
Roberge noted specific clauses of Bill 96 — now merged into the Charter of the French Language — stipulate none of the French-only rules apply in the delivery of health services in English such as exist now.
Article content
"Nothing, nothing changes (in health)," Roberge said. "There is even a clause that says take note, nothing changes."
He said the government has widened that exemption to cover issues of security and access to the justice system.
"Imagine there was a flood in a region and (the city) has to communicate," he said. "That affects public security. If we have to send a message that could save lives, we are not going to say we're only doing it in French. We would never put at risk the safety of people.
"What we're doing with the law is important, very important. But it is not threatening. This does not represent a threat to anyone."
How to apply key clauses of Bill 96 has been in question from the start. Part of the answers on how the Coalition Avenir Québec government will act rests in its new "Politique linguistique de l'état" or state language policy, which was recently adopted by the Legault cabinet.
Article content
Published under the radar on April 9, the policy comes into force June 1; hence the urgency for Roberge to be clear on his intentions.
The 15-page document states the government's use of French must be "exemplary," in all spheres of its activities and those of agencies and Crown corporations.
"The Quebec state addresses Quebecers exclusively in French, the common language of the population," the document states. "The administration uses French exclusively in its written communications. It does so equally in its oral communications.
"Exceptions are foreseen in the Charter of the French Language but the administration must never systematically make use of another language. Institutional bilingualism is incompatible with the Charter of the French Language."
Article content
The document spells out how exceptions are to be handled.
"Before using a language other than French, all administrative organizations must ensure, by verifying on a case-by-case basis, that it is in a situation where an exception is accorded and foreseen in the Charter of the French Language."
According to officials, the June 1 activation day will include a directive to employees on the rules. Special training to enable them to identify clients' needs is underway.
New signage is in the works in places Quebecers obtain services such as from the Société de l'assurance automobile du Québec (SAAQ) or Hydro-Québec.
Quebec will also added a banner to government websites in which a person would click a box attesting they are eligible for English services before accessing the English content. No proof will be required.
Article content
During hearings into Bill 96, there were references by Premier François Legault to "historic anglophones," being those who would have rights to services in English. The term does not appear in Bill 96 nor the government's language policy.
Roberge has gone instead with the term "acquired rights or "les ayants droits."
Either way, critics have said the definition is too narrow. The Quebec Community Groups Network, an umbrella of English community groups, has said using the English-school eligibility rule to identify the community is "grossly under-inclusive," because there are many more English speakers than those with schooling certificates.
According to the QCGN there were 600,000 single-response mother tongue english speakers identified in the 2016 census in Quebec but 1.1 million residents whose first official spoken language is English.
Article content
On the other hand, Roberge's decision to not impose strict identity rules on the system could mean more anglophones will get services anyway.
On Wednesday, Quebec's newly appointed Commissioner of the French Language, Benoît Dubreuil, said he will be watching carefully to see how the new exemption process unfolds.
Roberge, who took over the language issue from minister Simon Jolin-Barrette, has said Quebec may have to go further to put the brakes on the decline in French.
At a CAQ caucus meeting in Laval in January, he announced the creation of a new action group made up of cabinet ministers to propose further actions to shore up French.
At government spending estimate hearings last Thursday in the legislature, Roberge noted both the Liberals and Parti Québécois drafted similar state language policies while they were in office yet never applied them.
Article content
"We are warming up the engine for a good launch," Roberge told members of the committee. "At the end of the day we have to advance. Too often governments have had tools and not used them."
But the government also recently decided to allow ministries and public organizations to continue communicating in English with companies and community organizations in English for two more years if it is deemed necessary for the organization to fulfill its mission.
And the 47 municipalities and boroughs at risk of losing their bilingual status have all passed resolutions to retain it.
Quebec bends language laws to lure international agencies to Montreal

CAQ government creates action group on future of French in Quebec

Language watchdog on Bill 96: What place do we want to give French in our lives?