The Regina Thunder — the PFC's regular-season champion for the second straight season — has not lost a non-playoff game since Sept. 7, 2019.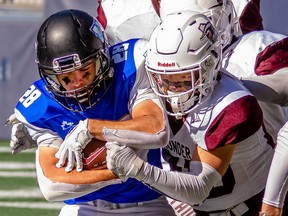 Article content
Robservations …
Article content
• The Regina Thunder will have to win another championship or three before being mentioned in the same light as their forerunner on the local junior football scene, the Regina Rams. However, the Scott MacAulay-coached Thunder is trending nicely in that direction, having won 19 consecutive PFC regular-season games. And, at 7-0, they are poised to post a perfect regular-season record for the second year in a row. Such feats were once synonymous with the Rams under head coaches Gordon Currie, Jerry Zbytnuik and Frank McCrystal.
Article content
• Of course, the brakes should be applied until the Thunder can capture a league title for the second time. Nine years have elapsed since MacAulay capped his first season as the head coach by guiding the team to PFC and CJFL championships. Since that time, the Saskatoon Hilltops have enjoyed a virtual stranglehold on both crowns. Saskatoon, remember, avenged two regular-season losses to Regina in 2021 by defeating the Thunder 29-9 in the PFC final. But this year does have a different vibe, especially when you consider that the Hilltops have lost (gasp!) three games for the first time since 1993. Never count out Saskatoon, but the Thunder should soon be presented with a delicious opportunity to make local sporting history — just like the Rams used to do.
Article content
• Fast fact: Thunder players are 1-2-3 in the PFC in receiving yardage, with the separation between first and third being less than a first down. Rylan Sokul leads the way with 582, followed by Isaac Foord (574) and Isaiah Woodley (573). Sokul paced the loop in catches (38) and receiving yardage (621) last year en route to being named the PFC's outstanding offensive player.
• The Thunder also boasts the league leaders in touchdown passes (Carter Shewchuk, 16), TD receptions (Foord, seven) and interceptions (Justin McKerracher, five).
MAKING HIS MARK
• The Rams, a university team since 1999, could fail to register another first down this season and Mark McConkey would still be favoured to win Canada West coach-of-the-year honours. McConkey has taken a team that went 1-5 last season and transformed it into a 4-1 force that has already clinched a playoff spot.
Article content
• The Rams have enjoyed an exponential improvement even though their projected starting quarterback, Josh Donnelly, has yet to play a down this season due to concussion-related issues. Noah Pelletier had not thrown a single pass in the Canada West ranks until this year's regular-season opener. It really is quite the story.
• Next up for the Rams is an Oct. 15 showdown with the University of Saskatchewan Huskies, whose closest call to date was an 11-10 victory over the U of R at Mosaic Stadium on Sept. 17. The Huskies prevailed even though their formidable offence, piloted by Hec Crighton Trophy candidate Mason Nyhus, was held without a touchdown.
• Regina Minor Football and the Regina Intercollegiate Football League have become an incubator for elite Canada West quarterbacks. Pelletier (formerly of the Balfour Bears) and Nyhus (Riffel Royals) are two examples. Also consider Rams legend Noah Picton, a LeBoldus Golden Suns grad who in 2016 was named the top player in Canadian university football.
Article content
MINOR MAJORS
• Here's the first of today's two shout-outs to RMF executive director Len Antonini, who continues to tirelessly devote his time to making our sporting community a better place. Len routinely scours the stands at Leibel Field, selling 50-50 tickets. Please remind me to bring my wallet on Saturday, when four RMF pee wee playoff games are to be held. (Note to self: Nobody likes a cheapo sports columnist.)
• Player to watch: Marcus Adams, a game-breaking tailback with RMF's pee wee Mustangs. His father, also named Marcus, was a Roughriders defensive lineman from 2003 to 2010.
• Another player to watch: Nickson Goldstone of the pee wee Bulldogs. In addition to averaging 16.6 yards per carry this season, Goldstone has caught an 18-yard touchdown pass, returned an interception for a 60-yard score, led his team in punt returns (11.5-yard average), punting (26.9 yards per boot), sacks (three), fumble recoveries (two, tying him with teammate Kylen MacFarlane), defensive tackles (47), tackles for a loss (two, tying teammate Matthew deMontigny), special-teams tackles (10) and blocked kicks (four).
Article content
HIGH TOTALS
• While saluting football in its various forms, due recognition must be given to the stars of the high school ranks. It was a great pleasure earlier this week to meet the Balfour Bears' Reid Massier, who amassed 358 all-purpose yards in a 26-22 Regina Intercollegiate Football League victory over the Thom Trojans on Sept. 30. Massier scored on both of his receptions, from 93 and 45 yards, and that was just part of his evening.
• Not to be outdone, Owen Mazur amassed 381 yards to help the LeBoldus Golden Suns defeat the Winston Knoll Wolverines 38-21 on Sept. 30. Mazur's shortest touchdown: 55 yards. His other TD run covered 57 yards. Oh, and he also scored on a 101-yard reception. Six days later, he ran for two touchdowns (scoring from 44 and 14 yards) in addition to catching a 25-yard TD pass and returning a kickoff 92 yards for a major in a 55-21 victory over the Campbell Tartans. All-purpose yardage: 258.
Article content
ROLL CREDITS …
• Nice people who deserve a plug: Len Antonini (repeat), Jack Upshall, Cindy deMontigny, Matthew deMontigny, Brinley Deis, Ryan Darjes, Maddox Eliese, James McDonald, Riley Sisco, Sheldon Neald, Tami Makowsky, Paige Tenbult, Reid Massier, Claire Dore, Nolan Kuz, Sam Oremba, Matthew Kieper, Brady Birnie, Nickson Goldstone, Craig Beauchemin, Gerry Hellquist, Jerry Trupiano, Sharyn Rutledge, Melissa Park, Matt Young, Marcus Adams (father and son), Arielle Zerr, Joey Walters and another exceptionally nice person with ties to the Roughriders — Thomas Judek, a right-thinking Denver Broncos fan who is doing a tremendous job as a media-relations intern with the Green and White.
The sports world is ever-changing, as are the times. Supplement your steady diet of sports coverage by subscribing to the Regina Leader-Post's 306 Sports Fix newsletter. Each week, sports editor Rob Vanstone will provide additional commentary on the Roughriders, Pats and other teams/sports of interest, along with a peek behind the curtain. Click here to subscribe.
From Boston to the Regina Thunder: Isaiah Woodley's story

Sam Oremba's hockey journey comes full circle with Regina Pats