Restaurateur Emad Yacoub is looking to fill what he feels is a void in the Vancouver food scene with his latest restaurant: Riley's Fish & Steak.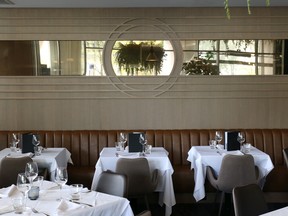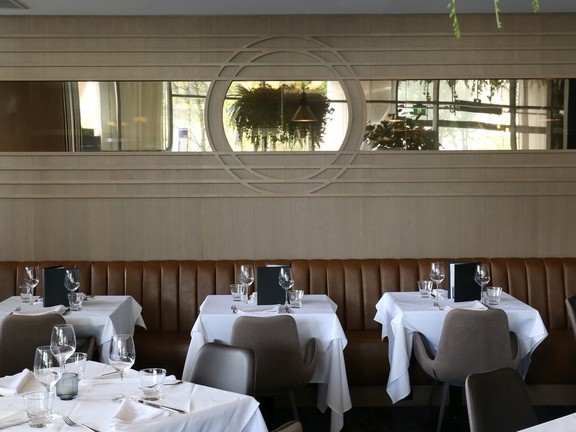 Reviews and recommendations are unbiased and products are independently selected. Postmedia may earn an affiliate commission from purchases made through links on this page.
Article content
Riley's Fish & Steak
Article content
Where: 200 Burrard St., Vancouver.
When: Monday to Wednesday, 11:30 a.m. to 10 p.m.; Thursday to Friday, 11:30 a.m. to midnight; Saturday, 2:30 p.m. to midnight; Sunday, 2:30 p.m. to 10 p.m.
Info: 604-629-8800. Also at Rileysrestaurant.ca
---
Restaurateur Emad Yacoub is looking to fill what he feels is a void in the Vancouver food scene with his latest restaurant: Riley's Fish & Steak.
"The chop house concept has not been done in Vancouver … since Joe Fortes opened in 1986, during the Expo," Yacoub says. "That was the first chop house. After that, there have been seafood restaurants opened and steak houses. But there's never been a chop house."
Described by Yacoub as an "old-fashion restaurant" that eschews the latest trends, the eatery aims to offer "great fish, great steaks and comfort cooking," according to the Glowbal Restaurant Group owner. Its menu offering is a "combination" of the restaurant group's other popular establishments like Black+Blue and Coast, he adds.
Article content
"It has been always about the simplicity of the food," Yacoub says. "That's what a chop house is."
Located at the base of Burrard Street, where the city meets the inlet, the stylish eatery's positioning is perfect for attracting business travellers, cruise ship guests, hungry locals — basically anyone who is looking for an elevated steak-and-seafood experience, according to Yacoub.
"It was kind of idiot proof for us not to do it," Yacoub says of the chop house concept and waterfront positioning.
Named after one of Yacoub's four business partners who have been with him since the start — "He was the first one that I hired, in 1995, was a little 19-year-old boy with crazy red hair. His name was Sean Riley," Yacoub shares fondly — the restaurant is as much a celebration of the group's bond in business, he says, as it is about serving up great food.
Article content
"We understood each other years ago. We have been together for almost 18 years," Yacoub says of the core group. "None of us has ever fought with each other. We have never fought over money. We have never fought over position. We never fought about what's in it for me because we were all cooks and waiters. And none of us were greedy.
"We all had a dream to open our own businesses and then when it took off, we realized that we complement each other so, so much. So, what I'm good at, Robert (Byford) is good on something else. And what Robert is not good at, Jack (Lamont) is good on something else, and Patrick (Austin) and Sean. Each one of us have lots of weakness, and each one of us have lots of strengths. Together, we're like the yin-and-yang."
Article content
As with all of the group's new restaurant ventures, Yacoub says Riley's presents a classic restaurant approach — but with a slight twist.
"It's the way we did our wine," Yacoub points out of the unique approach that sees any bottle of wine at Riley's, regardless of its price, charged a $50 corkage fee.
"Say I grab a bottle of wine in the government liquor store that is $100. The same bottle of wine in specialty merchants or Liberty Wine will be about $118 to $120 and then the added tax on it is around $128," he explains. "We took that price and we added a corkage fee on it.
"So, here we are selling the bottle for $180 to $190, when it's about $275 somewhere else. So it's truly discounted price on the wines."
The approach, Yacoub says, appears to be paying off.
Article content
"People are buying and buying and upgrading," he explains. "We're going to monitor it for the next five to six months and we hope it's going to be very workable because we're watching now and the wine sales going out are incredible. We're very happy with it."
The food menu sticks close to the classics — think: prime steaks, fresh oysters and an impressive selection of seafood towers. Though Yacoub points to the Beef Stroganoff ($32) that sees cured foie gras grated atop the dish for an added bite of "fatness and flavour" as a specialty highlight.
We visited during a nicely bustling lunch service on a rainy summer afternoon.
Our meal started with a shared Caesar salad ($16). Featuring generous cubes of bacon studding the romaine salad mixture, the creamy dressing was flavourful and smooth, providing a nice slick to the salad without bogging it down.
Article content
A serving of fish-and-chips at a nearby table had us second-guessing our order, leading us to vow to try it on a return trip. Instead of said main, our lunch party opted for the Haida Gwaii Halibut Steak ($45) and the Steak & Frites ($39). As it turns out, there should have been no feelings of regret.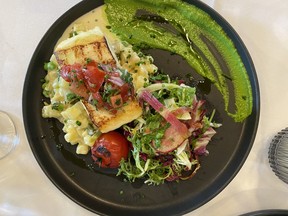 The large halibut filet was perfectly prepared with a simple seasoning and a subtle crust. The fresh fish was topped with a course pico de gallo, a fresh salsa that had a wonderful flavour but wasn't entirely necessary given the potato risotto that was present on the plate. More like a warm potato salad, with small cubes of potato cooked to leave a slight bite and fresh peas, it was dreamy, delicious, divine. The dish was a knockout.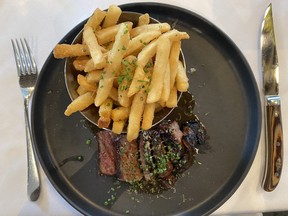 The steak frites saw a slight, seven-ounce serving of Canadian primer striploin, nicely seasoned and grilled to preference, served with a cup of crispy golden fries. The menu item read shaved foie gras, though it wasn't prominent on the dish. Plated on a splash of red wine jus, the dish made for a memorable lunchtime bite.
As for which menu item is Yacoub's personal favourite, he preferred to point to his perfect meal instead.
"A beautiful dozen fresh oysters, a nice seafood tower and a big steak in the middle of the table," Yacoub answered definitely. "And I'm happy."