Garrett Marino received three suspensions for a total of four games after Friday's victory over Ottawa.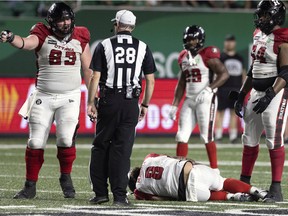 Article content
Rob Vanstone and Murray McCormick discuss the Saskatchewan Roughriders' 28-13 victory over the Ottawa Redblacks at Mosaic Stadium on Friday. The victory saw the Riders improve their record to 4-1 but the victory was "tainted," according to coach Craig Dickenson.
Article content
Defensive tackle Garrett Marino received suspensions after the game, which featured a dust up late. Marino was hit with a four game ban for his actions in the game.
Two of the games in the suspension were for the hit on Ottawa QB Jeremiah Masoli and Marino's subsequent celebration. One game was for a CFL code of conduct violation while the other for Marino's illegal and reckless tackle of an Ottawa offensive lineman on a previous play.
The sports world is ever-changing, as are the times. Supplement your steady diet of sports coverage by subscribing to the Regina Leader-Post's 306 Sports Fix newsletter. Each week, sports editor Rob Vanstone will provide additional commentary on the Roughriders, Pats and other teams/sports of interest, along with a peek behind the curtain. Click here to subscribe.