Housing, the cost of living, transit — all need more attention and realistic policies.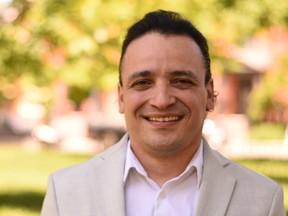 Article content
The Citizen invited candidates in the Oct. 24 municipal election to share their thoughts:
Article content
My name is Alex Osorio, and I am running to be your city councillor for Rideau-Vanier, because you deserve better from Ottawa city hall.
Article content
In the last ten years, city hall has made the wrong decisions, one after another. As a result, housing is more expensive, local businesses are closing at a record pace, and transit is even more unreliable. Instead of fewer people living on the streets, there are more than ever.
I believe that when something is wrong, you should act. That's why I started youth groups, job coaching and counselling services for people who needed help in our community through the Fire of God Community Outreach Centre. When the pandemic hit, I opened a food bank serving more than 800 families a week. On city council, I can make a bigger positive impact on Rideau-Vanier.
Article content
We can make Ottawa a city for everyone.
1. Housing: We need more homes built, starting with relaxing zoning. We need affordable homes for students and seniors and sizable for young families and new Canadians — while making our neighbourhoods open to businesses that are within walking distance.
2. Transit: We need more reliable services that allow residents to operate downtown. That means revising OC Transpo routes to better reflect community needs and away from focusing on Monday to Friday, 9-to-5 commuters going between downtown and the suburbs.
3. Homelessness Crisis: Homelessness is rising. City council keeps trying to push the problem downtown. It isn't working. We need services spread across the city for mental health and a focus on getting people clean. Those dangerous to themselves and others must be taken off the street and helped.
Article content
4. Small Business: Our community has amazing shops. We must take advantage of tourists already in the city and funnel them to everything our community offers. I will work to strengthen tourism because that will create better jobs in the community and bring in revenue for better services.
5. Services: The cost of living is rising, and people need help. I want to ensure our city programs focus on what is essential, such as better garbage pick-up services, enforcing safer communities and that we all work to support local charities with a record of success instead of growing city hall.
City hall does not need any more advocates. City hall requires action, and that is what I bring to the table. But I cannot do it on my own; I need your help today.
Please, join my cause in making Rideau-Vanier a place for everyone. Support me by signing up on my website. Volunteer or donate to the campaign. We need to let everyone know that better change is coming.
Alex Osorio is running for Ottawa council in ward 12, Rideau-Vanier.
How and where to vote in the 2022 Ottawa municipal election

Here are the candidates for the 2022 Ottawa municipal election