Opinion: Curbing money laundering requires a new approach not wedded to past failures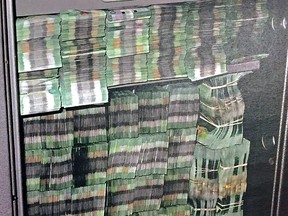 Article content
For years, red flags have been raised over the scope and pernicious effects that money laundering has on the economy, the private sector, public institutions and society as a whole.
Article content
B.C.'s Cullen commission on money laundering is the latest to raise such concerns, arguing in its detailed report that it constitutes "a significant problem deserving of serious attention from government, law enforcement, and regulators." Much of the recommendations of the commission focus on heightened government regulation, industry self-regulation, and criminal law enforcement.
Yet, with all due respect to Justice Austin Cullen, for the most part, his recommendations simply double down on enforcement and regulatory measures that have consistently failed in Canada and other countries.
As the late criminologist Margaret Beare wrote, "No one has been able to determine with any remote degree of confidence whether or not the proceeds-of-crime approach to crime control has had any discernible impact on the operation of illegal markets or on the amount, distribution and behaviour of illegal income and wealth."
Article content
Moreover, "There is no evidence that anti-laundering works as an effective 'prevention' strategy to significantly reduce the amount of organized crime or terrorism."
The limitations of proceeds of crime enforcement stem from the adaptable and resilient nature of organized crime combined with the immense legal and logistical hurdles that face criminal law enforcement and industry regulation in this country.
As far back as 1994, an RCMP drug-enforcement report candidly admitted that the "increasingly sophisticated nature of money laundering" is "reflected in its demonstrated ability to adapt to a changing legal environment." The report goes on to say that Canadian legislation and enhanced police efforts had led drug traffickers to revise their money laundering operations, including the development of new techniques and the use of different channels.
Article content
When a proceeds-of-crime case is heard in criminal court, there is often little left money or assets for the defendant to forfeit, either because the funds have been effectively hidden (often offshore) or they have been depleted through what can be referred to conservatively as "conspicuous consumption" (As Jimmy Buffett lyrically put it in his song, A Pirate Looks at 40, "I've done a bit of smuggling, I've run my share of grass. I made enough money to buy Miami, but I pissed it away so fast. Never meant to last, never meant to las.")
Critics argue that the prospect of asset forfeiture, arrest and imprisonment does little to dissuade most serious and chronic offenders due, in part, to the high profit potential of organized and corporate crimes. Assets that are forfeited are often viewed as the cost of doing business.
Article content
The complexity of some laundering schemes requires an extraordinary level of law enforcement resources and expertise to trace, let alone seize, illicit assets. The onus placed on Crown prosecutors to prove beyond a reasonable doubt that seized funds and assets are connected to specific criminal offences and offenders is an almost insurmountable hurdle in large, complex cases.
Cullen also criticizes Canada's Fintrac — which processes suspicious transaction reports and produces intelligence for law enforcement and national security agencies — as being largely ineffective and recommends the creation of a financial intelligence unit specific to B.C. The criticisms of Fintrac are justified, but its failures are indicative of broader problems with proceeds of crime enforcement in Canada, including a shortage of resources to analyze the backlog of suspicious transaction reports, the paucity of reporting from sectors most vulnerable to money laundering, as well as limitations placed on Fintrac's ability to share its intelligence information. Not only does the creation of a provincial equivalent undermine a national intelligence-gathering and enforcement approach but it is unlikely to overcome the problems experienced by Fintrac.
Article content
The failure of proceeds-of-crime enforcement in Canada and abroad speaks to the larger failures of organized crime control and the "war on drugs." Traditional enforcement approaches continue to fall short of their objectives of containing organized crime, let alone eradicating it. There is evidence of a growing number of organized crime groups in Canada and an continuing proliferation, diversification and sophistication of organized crimes.
Governments can no longer slavishly pursue failed policies while ignoring alternatives. This may mean shifting resources away from the criminal justice system to institutions and methods that address the root causes of serious and chronic criminality, illicit markets and substance abuse.
Article content
While we never will be able to abandon law enforcement strategies entirely, at the very least there is a need for a more proactive, preventive approach to targeting the finances of criminal organizations and organized crimes.
Like the criminal justice system in general, proceeds-of-crime enforcement is overwhelmingly reactive. It waits for a crime to be committed and then goes after the illicit revenues. Instead, it may be more effective to prevent both the crime and resulting illicit revenues by targeting the financing of drug transactions and other organized crimes. Indeed, if these aforementioned critiques of the Cullen commission accomplish anything, at the very least they should generate more discussion of alternative, innovative and preventive approaches to combating organized crime, drug trafficking, and money laundering.
Article content
Stephen Schneider is a professor of criminology at Saint Mary's University in Halifax. Along with Margaret Beare, he wrote the book Money Laundering in Canada: Tracing Dangerous and Dirty Dollars (University of Toronto Press, 2007). He was contracted as a researcher by the Cullen Commission and was the first witness to testify before it.