The Calgary MP's announcement comes after she stepped away from Patrick Brown's federal Conservative leadership campaign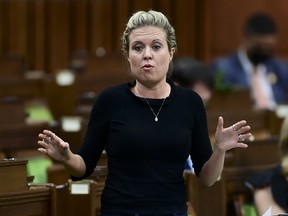 Article content
Long-time Calgary MP Michelle Rempel Garner has announced she will not run in the UCP leadership race after weeks of speculation that she would join the fray.
Article content
Rempel Garner announced her decision in a lengthy blog post where she outlined she had all the tools in place to launch a bid but ultimately decided against doing so due to internal divisions within Alberta's governing party.
"Many of the conversations I've had while exploring this opportunity confirm public reports that a clear division exists," said Rempel Garner. "That is, those who don't want the former leadership team to retain any hold on power and those who are part of the former leadership team and want to entirely maintain the status quo. Neither of these positions are tenable. The public has no sympathy for it either."
Comparing the UCP to the federal Conservative party, who have lost three elections and has replaced two leaders in the past seven years, Rempel Garner said there have been squabbles in both parties that have made headline news as well as public meltdowns, near physical fights, coups and smear jobs.
Earlier this week, Rempel Garner had sought an exemption to run in the leadership race after it was reported her UCP membership had elapsed and she did not meet the requirement of being a party member for six months prior to a July deadline to put her name forward.
Several people who spoke on the condition of anonymity told Postmedia this week that during a phone call to discuss the exemption that several sitting MLAs had voiced concerns over granting such an exemption with several sources musing that those in opposition had already publicly declared support for another candidate.
Article content
Rempel Garner's Thursday announcement comes after she stepped away from Patrick Brown's federal Conservative leadership campaign, and Brown's campaign manager also left to help Rempel Garner with her possible bid to helm the UCP.
Lisa Young, a political scientist at the University of Calgary, said everything leading up to the blog post had suggested Rempel Garner was genuinely considering a bid before changing direction. She said it appears some of the opposition Rempel Garner faced while seeking an exemption appears to have confirmed to the Calgary-Nose Hill MP that divisions remain strong.
"She really does suggest that the UCP is, from her point of view, ungovernable and that somebody, particularly someone from the outside coming in as leader, is going to be set up to fail," said Young.
Article content
There is already a crowded field of candidates looking to take over from current Premier Jason Kenney. Former ministers Travis Toews, Rebecca Schulz, Rajan Sawhney and Leela Aheer have all declared as well as former Wildrose leaders Brian Jean and Danielle Smith. Independent MLA Todd Loewen and Amisk Mayor Bill Rock are also in the running.
Young pointed out that Rempel Garner, a sitting MP, would have had more to lose than anyone already declared had she not been successful. She said former ministers have resigned from cabinet but they could be reinstated by the new leader.
She said Rempel Garner's post will now turn the attention back on the candidates to show how they will govern a divided a party if they are successful in the October vote.
Article content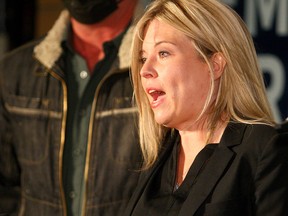 "It really now squarely puts the question to the candidates. How are you going to pull off this challenge? How are you going to bring together this highly divided caucus into a cohesive team in time to fight an election a few months later?" said Young.
At least one sitting member of the party appeared to agree with Rempel Garner's assessment of the party. Richard Gotfried, MLA for Calgary-Fish Creek tweeted saying she was "bang on".
Rempel Garner did not immediately respond to requests for comment Thursday afternoon. In her post, she said deciding not to run was the hardest decision she has ever had to make.
NDP leader Rachel Notley said Rempel Garner's statement showed Albertans that the UCP can't be trusted to stay focused on issues Albertans are facing.
"Affordability, health care, fixing our education system, these are the things that they should be focused on and her statement includes incredibly revealing descriptions of how that is not what Albertans can count on from the UCP," said Notley.
— With files from The Canadian Press and Lisa Johnson