Late-night runs from Bridgeport to the Richmond terminus were suspended for several nights as large cranes installed vertical columns for the new Capstan station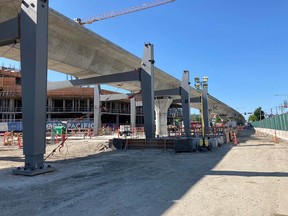 Article content
Full service is back on the Canada Line heading into Richmond, as work on the next phase of construction at Capstan station finished ahead of schedule.
Article content
Service from Bridgeport to Richmond-Brighouse ended three hours earlier than usual for several nights as crews used large cranes to install vertical columns on both sides of the track at Capstan — something that couldn't be done while trains were operating.
The work was due for completion on Thursday night but wrapped up before a planned Wednesday night closure was needed.
TransLink set up bus bridges from Bridgeport to Aberdeen, Lansdowne and the Richmond-Brighouse terminus while the work was underway.
Construction on Capstan station, a new stop on the Canada Line between Bridgeport and Aberdeen, continues; the new station in the Capstan Village area of Richmond is on track to open next year.