Carbon RX is looking to partner with Indigenous communities to naturally sequester carbon, providing economic and environmental benefits.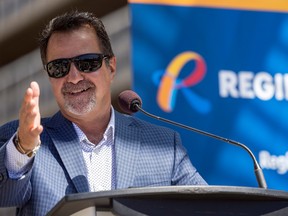 Article content
Tens years after he left the mayor's office, Pat Fiacco now has his sights on a program that he says will allow companies to offset their emissions with the help of Saskatchewan's traditional land stewards.
Article content
At a news conference scheduled for Monday, Fiacco, who now works with Carbon RX, will outline how the company plans to further partner with Indigenous communities through the exchange of carbon credits.
Article content
The exchange would see a company purchase a credit from a First Nation or Indigenous landholder, allowing the business to meet their environmental, social and governance targets. In turn, participating Indigenous communities would receive income for the sale.
"Indigenous peoples have always focused on being the experts and keepers of the land, the water and the air. But, they haven't been given the opportunity to participate in the carbon market," said Fiacco, who served as Regina's mayor for 12 years from 2000 to 2012, and is now the regional manager for Carbon RX. "So, we're facilitating that opportunity and ensuring they are participating and being recognized."
Article content
Carbon credits are a tool used by companies to offset their emissions and meet other environmental goals. With Indigenous communities, Carbon RX is looking to use the land as a natural way to sequester carbon.
He explained the land must be registered before it's able to sell carbon credits. Soil samples and other data points will be used to determine its carbon credit value. Once established, First Nations can either hold on to that value or sell them for credit.
"As time goes by, the value of those carbon credits are going to grow," Fiacco explained. "And when the band determines that there is a buyer that wants to buy the carbon credits, they're given the option to either hold them or to sell."
Sask. well positioned as carbon capture interest expected to grow

SaskPower emissions climb above 2005 levels after brief drop
He said First Nations in Canada have sovereignty over 150 million acres of land, which could play a role in sequestering carbon from the atmosphere. These lands include farms, grasslands and forests that naturally take in carbon.
Article content
The announcement coincides with a summit, hosted by Carbon RX, that includes various speakers on how Indigenous communities can play a role in benefiting economically by helping companies offset their carbon emissions.
In a Carbon RX news release issued in June, Chief George Cote of Cote First Nation said it's now time to work together and collectively manage the land.
"The more we work together the greater our impact will be. We are the original environmentalists," he stated.
Various governments have their own carbon credit programs. For instance, the federal government's offset program allows proponents to sell credits to other companies looking to meet climate targets or commitments.
Carbon RX's plan would be done through what's known as the voluntary market, which normally applies to companies that aren't mandated to reduce emissions but want to meet their own sustainability goals.
Fiacco said there has been over 1,500 companies that have committed to reducing their footprint through the voluntary market.
The news seems to be flying at us faster all the time. From COVID-19 updates to politics and crime and everything in between, it can be hard to keep up. With that in mind, the Regina Leader-Post has created an Afternoon Headlines newsletter that can be delivered daily to your inbox to help make sure you are up to date with the most vital news of the day. Click here to subscribe.