The approval comes after city administration rescinded a development and building permit six months after it was issued due to a mistake in its permit approval process.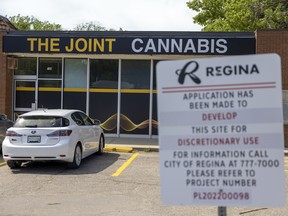 Article content
After getting development and building permits from the city, the owners of The Joint Cannabis shop invested more than $250,000 into a new location in Regina's Whitmore Park.
Article content
But six months after the permits were issued, the city rescinded them, citing the existence of a Montessori school about 40 metres from the new shop, making the development a discretionary use and therefore requiring council approval.
"In my 15 years of doing this, I have never been in a situation where after a development permit has been issued, and especially six months after, then to have a municipality come back and essentially tell us that is being pulled at this point because a mistake was made," Bartosz Stras, vice-president and co-founder of The Joint Head Shop Inc., which operates The Joint Cannabis Shop on Victoria Avenue.
During a city council meeting Wednesday, when council ultimately voted to approve a discretionary use application to allow the development to move forward, administration admitted it erred and aims to prevent such mistakes in the future.
According Stras, when they chose the site at 2104 Grant Rd., the Montessori school that was in a nearby strip mall was shut down due to COVID-19. As a result, it met all zoning requirements to make it a permitted use, a development that does not need council approval.
At some point, unbeknownst to Stras or the city until six months later, a new owner moved into the strip mall and reopened the school. In his presentation to council Wednesday, Stras made assurances that they run a safe and secure operation, asked council to approve administration's recommendation to allow the development despite some opposition from the community.
Article content
In the Weeds: Local cannabis industry looking for 'sweet spot'

In the Weeds 2: True economic impact of cannabis in Regina remains elusive
Catherine Gibson is a resident of Whitmore Park and spoke out against the location of the pot shop for its proximity to not just the Montessori school, but also to a high school and elementary school, and churches.
"Our health-care system is strained, many people have to chose between eating or heating, others chose between putting gas in their cars or filling prescriptions, we are probably on the brink of World War III," Gibson said. "The last thing we need is a purveyor of recreational and potentially mind-altering products and the second last thing we need is tying up valuable city council time in determining if they should permit it."
According to administration, it received feedback from 31 residents who were opposed and three in support of the shop. The area's community association also opposed it, but administration noted most of the feedback was not relevant to the issue at hand, which was the proximity to the Montessori school.
"This was not their fault; this was ours," Coun. Lori Bresciani (Ward 4) told her fellow councillors as she voiced support for the application. "This is quite embarrassing to our city."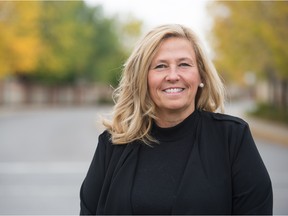 Most other councillors agreed, all voting in favour except for councillors Cheryl Stadnichuk (Ward 1), Landon Mohl (Ward 10), John Findura (Ward 5). Stadnichuk cited those who voiced opposition to the development and the community desire to see other services in the area.
Article content
Acknowledging the mistake, Deborah Bryden, director of assessment and property revenue services, said administration has committed to doing site visits during the permit approval process in the future to avoid such a mistake from happening again.
Also at council
Council also approved its share of a feasibility study for a new multi-purpose, mixed-use, synthetic turf outdoor facility that could meet the needs of recreational users as well as high performance baseball. The city will pitch in an additional $15,000 and the study is to be conducted by the Multi-Purpose Outdoor Stadium Committee (MPOSC) led by Regina Exhibition Association Limited (REAL). The study was recommended after a needs assessment was funded by three partners, the city, REAL and Living Sky Sports and Entertainment.
Also approved as part of the report was the creation of a Catalyst Committee, co-chaired by Coun. Bob Hawkins (Ward 2) and REAL president and CEO Tim Reid. The committee will co-ordinate and guide a trio of major recreation projects proposed for Regina. A terms of reference for the new committee is expected to come before executive committee on Aug. 10 for approval and proposed membership by the end of the year.
An increase to taxi fares was also voted on Wednesday. Instead of the eight per cent increase discussed at executive committee last week, council approved a 12.3 per cent increase in light of additional feedback received by the taxi industry and changes in the consumer price index which impacts the model used to calculate fares. The increase represents the maximum a taxi company can charge. Administration said the 12.3 per cent increase was supported by four of the five taxi companies in Regina. One company was advocating for an even high increase based on overall inflation instead of the CPI.
The news seems to be flying at us faster all the time. From COVID-19 updates to politics and crime and everything in between, it can be hard to keep up. With that in mind, the Regina Leader-Post has created an Afternoon Headlines newsletter that can be delivered daily to your inbox to help make sure you are up to date with the most vital news of the day. Click here to subscribe.