The Regina Pats traded defenceman Adam McNutt to Swift Current on Wednesday for a fifth-round pick in the WHL's 2023 prospects draft.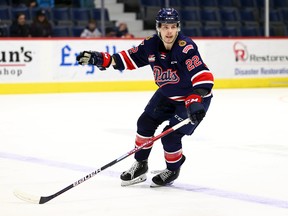 Article content
The Regina Pats traded defenceman Adam McNutt, 19, to the Swift Current Broncos on Wednesday for a fifth-round pick in the WHL's 2023 prospects draft.
Article content
"We had numbers on defence with the acquisition of Tanner Brown (on Tuesday)," Pats head coach and general manager John Paddock said in a media release. "This was a chance for us to get a draft pick back and a team wanted Adam.
Article content
"He was a good Pat and we wish him all the best."
McNutt appeared in the Pats' first eight games of the 2022-23 season, registering 20 penalty minutes. Last season, he had two goals, four assists and 76 penalty minutes in 47 games, spent with the Pats and Prince Albert Raiders.
Leading up to Wednesday's WHL 20-year-old deadline, the Pats released goaltender Koen MacInnes. That move leaves the Pats with their full complement of three overage players — Brown, defenceman Luke Bateman and forward Cole Dubinsky. That number does not include injured forward Jakob Brook.
Article content
SOCCER SCORES
Kylan Wol Harden scored two goals to lead the O'Neill Titans to a 4-2 victory over the Sheldon-Williams Spartans in Regina High Schools Athletic Association boys soccer action Tuesday.
Also on Tuesday, the Thom Trojans got goals from Mohammad Alshaib and Tutu Daldum in a 2-1 victory over the Johnson Wildcats. Phan Tan Loc scored for Johnson.
Meanwhile, Cadell Card scored twice for the Laval Lions in their 5-3 victory over Regina Huda School — which got two goals from Amjad Zwai — and the Campbell Tartans defeated the Miller Marauders 5-1.
HOUNDS WIN
A third-period rally led the Notre Dame Hounds to a 4-3 SJHL victory over the Melfort Mustangs on Tuesday at Duncan McNeill Arena in Wilcox.
Notre Dame led 2-1 before Melfort (3-5-4-0) got third-period goals from Kevin Minnoch (at the 58-second mark) and Zac Somers (8:43). The Hounds' Dane Probe tied the game at 13:46 before Antoine Saint-Onge notched the winner at 17:24.
Article content
Tucker Inabinet made 38 saves for Notre Dame (3-6-0-1).
Also on Tuesday, the La Ronge Ice Wolves edged the host Humboldt Broncos 3-2.
Humboldt led 2-1 late in the third period before Ethan Strik (at 18:40) and Dylan Handel (19:21) scored for La Ronge, which got 44 saves from Topher Chirico.
La Ronge improved its record to 5-4-1-0 while handing Humboldt (8-1-0-0) its first loss of the season.
SHOWDOWN IN SASKATOON
The Regina Pat Canadians are to put their undefeated record (5-0-0-0) on the line Thursday against the host Saskatoon Blazers (4-1-0-0) in Saskatchewan Male AAA Hockey League action.
Thursday's game is the first of four in a row on the road for the Pat Canadians, who will also face the Estevan Bears (Tuesday) and Tisdale Trojans (Oct. 21 and 22) before returning home Oct. 26 to face Estevan (8 p.m., Co-operators Centre).
The sports world is ever-changing, as are the times. Supplement your steady diet of sports coverage by subscribing to the Regina Leader-Post's 306 Sports Fix newsletter. Each week, sports editor Rob Vanstone will provide additional commentary on the Roughriders, Pats and other teams/sports of interest, along with a peek behind the curtain. Click here to subscribe.
Regina Pats acquire defenceman Adam McNutt from Prince Albert Raiders

Pats' Suzdalev makes quick, slick transition to WHL