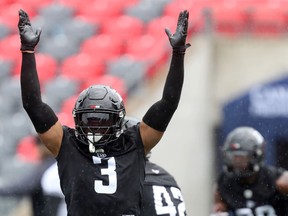 Article content
MONTREAL — Patrick Levels has fond memories of his two CFL seasons in Montreal.
Article content
He lived downtown in a condo beside the Bell Centre. He picked up bit of French to help him get through. And, taking on a starting role after two seasons in Calgary, he developed into a very good starting defensive back/linebacker with the Alouettes.
Article content
So, he's looking forward to the Thanksgiving Day game at Percival Molson Memorial Stadium. But Monday's not as much about seeing old friends and sightseeing, it's about trying to help the Ottawa Redblacks get back on track. In their first game under interim head coach Bob Dyce, the team's special teams co-ordinator who took over the lead job when Paul LaPolice was fired last Saturday, the Redblacks will try and keep their faint playoff hopes alive. A win over the Alouettes, who they beat 38-24 a bit more than a month ago, would give the Redblacks four wins, one less than third-place Hamilton.
Article content
So, yeah, as far fetched as it may seem, there is still hope for a playoff position. And sure, Levels has some good memories, but, as they say, there are bigger fish to fry.
"I loved my time in Montreal," said Levels. "It was my first opportunity to make a name for myself, a chance to show fans No. 3 — Pat Levels — would be around for a while. But it's not something I make a big deal of every time I play them. I'm happy to see the guys I know there doing well, but it's us vs. them. And I'm taking us every time."
Article content
Down the stretch — the Redblacks have two games left against each of Montreal and Hamilton — there will be plenty of scoreboard watching. Ottawa will be eyeballing what Hamilton, Montreal and Saskatchewan, in particular, do the rest of the season. The Ticats are now two wins up on the Redblacks. The Roughriders, who still could cross over into the East Division playoff picture, are three wins ahead, but have just two games left — both against the very-good Calgary Stampeders. A win by Montreal Monday would seal a playoff spot and home-field advantage for the Als. An Ottawa loss wouldn't eliminate the Redblacks, but it would drop their post-season hopes from slim to slimmer.
Article content
Said defensive back Sherrod Baltimore, who will return from a lengthy absence (hamstring injury): "We have to be urgent, it's Code Red for us right now."
"I was watching the first half (of the Hamilton-Saskatchewan game Friday) and I was cheering for a tie," said Redblacks quarterback Nick Arbuckle. "I felt like a tie was probably the best thing that could happen because it keeps (Saskatchewan) from getting another win and it keeps Hamilton from getting the momentum of winning another game. If you're looking at the standings and seeing what works, the best chance for us to make the playoffs in the position we're in is to make sure there are three teams from the east that go to the playoffs. That requires Saskatchewan to keep losing (Hamilton won 18-14) — (Friday) was good for us in that regard — but we have to still have to take care of business over these next four weeks or else everybody else's games don't really matter."
Article content
"You focus on yourself, but I'd be lying to say if I said we're not paying attention to those other teams," said Levels. "Those games now affect you, your opportunity could be erased by somebody else. You don't have control, that's what we wanted to avoid. All you can do is make sure you win your games. If we don't do our job, nothing that anybody else does really matters."
It's been challenging for Ottawa to score touchdowns in recent weeks, actually, through much of the season. Since its win in Montreal in September, Ottawa has scored three touchdowns in three games. Against the Als last time, the Redblacks scored three touchdowns, but one of them was by their defence on a Montreal fumble. Arbuckle had 313 yards passing. And, in that game, Ottawa forced four turnovers. That's the sort of effort that's needed again Monday.
Article content
"We should score more points," said Redblacks receiver Darvin Adams. "We should move the ball more. We should be more of an exciting offence. That's what we work toward every week. Sometimes it doesn't work out the way we want it to work out. Right now, we're focused on being better. The mindset is focus on Monday; the guys all understand that. One game at a time and let's see where that goes."
THE END AROUND: Some changes in the Redblacks lineup: C Darius Ciraco, DB Sherrod Baltimore and RB William Powell return. Patrick Nelson starts at WILL LB with LB Frankie Griffin going to the six-game injured list. DL Davon Coleman, RB Devonte Williams and OL Ucambre Williams are also on the six-game list. DL Will Kiely gets onto the game-day roster; he is listed as the backup to Cleyon Laing. LB Adam Auclair also returns … Former Redblacks DBs Ranthony Texada and Treshaun Abrahams-Webster are on Montreal's practice roster, along with OL Jamar McGloster. OL Philippe Gagnon and DL Mike Wakefield are on the one-game injured list.