"The energy has definitely been turned up in practice, I'm sure that'll help. But being the most energetic team in the world doesn't win games by itself."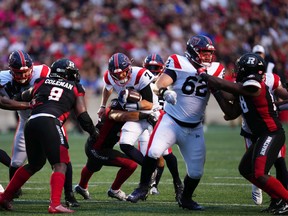 Article content
A fired-up Ottawa Redblacks team will soon find out if an intense internal battle for ice cream and pizza can turn into two points in a game-day situation.
Article content
A week full of spirited practices, leading into a Thanksgiving Day showdown with the Alouettes in Montreal, was highlighted by a series of competitions between offence and defence. On Thursday, the prize won by the offence was ice cream bars. On Saturday, the defence, with several interceptions, won pizza, to be delivered next week. The Redblacks are hoping the high energy level in practice leads to a win Monday.
Article content
"When you compete for anything, you hate to lose," linebacker/defensive back Patrick Levels said following Saturday's practice at TD Place. "Ice cream, pizza, $30, a pair of shoes, a shirt or whatever it is you're competing for, you want to win. We're a desperate group, but we're having fun. We're playing with a new energy, things got changed up and you want to find a way to come out of this being better."
Article content
At this point, any adrenaline boost is welcome for a team that has lost three in a row and has just three wins in 14 games. After the firing of head coach/offensive co-ordinator Paul LaPolice on Oct. 1, the Redblacks will go into battle against the Alouettes with special teams co-ordinator Bob Dyce in charge.
"I told the guys to come into practice with great energy and enthusiasm, so, when they're on the field, they're playing fast and playing hard," Dyce said. "Then we go inside and, if there are errors, we correct them, and, if there are positive things, we'll build on those."
"The energy has definitely been turned up in practice, I'm sure that'll help," quarterback Nick Arbuckle said. "But being the most energetic team in the world doesn't win games by itself. It's the team that executes the best. If you're not performing well on the field, your energy is going to go away pretty fast. We have to make sure we're locked in and we're sharp. We need to take care of our job and do everything we need to do to make plays Monday."
Article content
The Redblacks have a sliver of hope for a playoff spot, helped by the Hamilton Tiger-Cats' 18-14 win over the Saskatchewan Roughriders on Friday night. A bit more than a month ago, the Redblacks beat the Alouettes 38-24 in Montreal, but so much has changed since then. The biggest change, of course, is that Dyce is now the team's main voice. There seems to be a consensus among the players that he is the right guy for the job.
"Coach Dyce is smart as hell," said defensive back Sherrod Baltimore, who is expected to return to the lineup after being out since mid-August with a hamstring injury. "We have nothing but love for Coach Dyce, I could sit here and talk about him all day. When I was going through some tough times in  2018 and 2019, Coach Dyce was the person I would go to. He holds you accountable, there's no sugar coating, and that's why everyone likes him."
Article content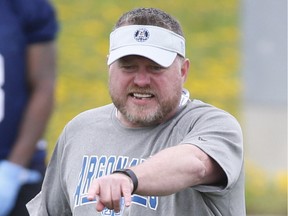 TRAVELLING MAN: Through a career that has spanned more than 20 seasons, Cory McDiarmid has almost become the Kevin Glenn of CFL coaches. While Glenn, the former quarterback, was on the roster of all nine CFL teams at one time or another, McDiarmid has been in eight of the league's cities. Still missing on his CFL résumé: Hamilton.
McDiarmid, who joined the Redblacks this past week as a special-teams assistant, had been helping out at the University of Calgary after finishing a season as special teams co-ordinator and running backs coach with Panthers Wroclaw of the European League of Football. He received a call from Dyce and was in Ottawa by last Tuesday. 
Asked how he ended up in Poland, McDiarmid said: "I was talking to a couple of CFL teams and I got a job offer from Poland. I was making a decision which way to go. One team was dragging it on, the other team was making a decision … I only had a limited time to take the other job. I let the CFL team know I had another opportunity, they said they were going to go in a different direction. It was a great experience; it's good football over there. The biggest change, and I don't want slag anybody, is there's limited football IQ by the players. It's full-time for some of them, but some of them have jobs. I've been offered a chance to go back. We'll see what happens. I'd like to stay here. I miss the CFL, I've been out since 2019."
Article content
McDiarmid helped out with the Ottawa Renegades in 2004 and also coached at the University of Ottawa in 2011-12.
"I love Ottawa. What's not to love about Ottawa?" he said. "I go back several years with Coach Dyce, I know what he brings. Guys are running around and having fun in practice, it's high-tempo and high effort. Whatever happened here before, I'm not privy to, I don't know. But, if it was like this before I got here, I'd be surprised if this was their record. What I see is a winning team."
THE END AROUND: Running back Devonte Williams (head), defensive lineman Davon Coleman (foot), linebacker Frankie Griffin (shoulder), offensive lineman Ucambre Williams (elbow/knee) and linebacker Tyron Vrede (elbow) have all been ruled out of the Redblacks' roster for Monday's game. Alouettes running back William Stanback (ankle) is eligible to return after an absence of more than three months. Asked about facing the Alouettes' offence, Dyce said: "Trevor (Harris, Montreal quarterback) does a great job getting the ball out of his hands quick. They've got a really good group of receivers, Geno (Lewis) has been a standout in this league the last number of years. We have a very good defensive line. We got to make sure we're disciplined in that regard and pressure the quarterback a bit. And, with William coming back, you have to protect against the run."