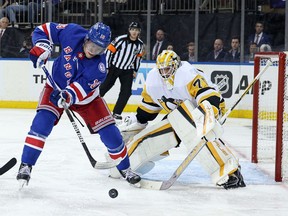 Article content
Detroit Red Wings' general manager Steve Yzerman sent a clear signal on Wednesday that the time for rebuilding is over and the time to start winning is now.
Article content
On the opening day of NHL free agency, Yzerman made a flurry of signings to add skill, size and experience to a Detroit lineup that has missed the playoffs the last six seasons.
"From what I've seen, it's very similar to the teams I've played on in Winnipeg and New York where you kind of go from out of the playoffs and then, all of a sudden, you're a contender," new Red Wings' centre Andrew Copp said of the Detroit roster. "I feel like there's a lot of really good pieces here and (Wednesday), with a bunch of the additions, it's an exciting time and ready to take the team to the next level. We're definitely poised to take a big step this season."
An Ann Arbor, MI native, the 28-year-old Copp was the first free agent to join the Red Wings on Wednesday after signing a five-year deal that will pay him $5.625 million per season.
Article content
The six-foot-one, 206-pound Copp is reunited with longtime friend and former University of Michigan teammate in Red Wings' captain Dylan Larkin.
He spent parts of six seasons with Winnipeg before being dealt to the New York Rangers at this year's deadline and combined for 21 goals and 53 points in 72 games.
" I feel like we've got a good group and we're ready to take the next step," Copp said. "I feel like this organization is headed for really good things and the sky's the limit."
After seeing his team allow the second-most goals in the NHL last season, Yzerman then secured six-foot-three, 234-pound veteran defenceman Ben Chiarot with a four-year deal for $4.75 million per season. The club also reportedly signed six-foot-two, 206-pound defenceman Olli Maatta to a one-year deal for $2.25 million, but the team has not made that signing official.
Article content
The 31-year-old Chiarot, who went to the Stanley Cup final with Montreal in 2021, had 157 hits between his time with Montreal and Florida this past season, which would have been second on the Red Wings behind Adam Erne's 161 and ahead of Moritz Seider's 151. He also had 120 blocked shots.
The 27-year-old Maatta spent the past two seasons with the Los Angeles Kings, but won back-to-back Stanley Cup titles with Pittsburgh in 2016 and 2017. He was the Penguins' first-round pick in 2012 and has appeared in more than 500 career NHL games.
"Obviously it's well known around the league that (Detroit's) a young, up-and-coming team," said Chiarot, who mentioned his family connections to Windsor as being part of the appeal to signing. "(Wednesday), with all the additions that the team made, it just makes it an even more exciting team. 
Article content
"As a player, you always want your team to be adding pieces and trying to get better and I think Steve definitely tried to do that (Wednesday). There're a lot of good players added to the team (Wednesday). 
The Red Wings also inked veteran six-foot-one, 206-pound forward David Perron to a two-year deal for $4.5 million a season, and six-foot-two, 179-pound forward Dominik Kubalik to two-year deal for $2.5 million a season.
The 34-year-old Perron is the only Detroit forward over the age of 28. He won a Stanley Cup with St. Louis in 2019 and had 27 goals this past season, which was third on the team, and finished with 57 points in 67 games He topped the team with 13 points in 12 playoff games and has produced at least 57 points in four of his last five seasons.
Article content
The 27-year-old Kubalik played the past three seasons with Chicago and was a 30-goal scorer in 2019-20.
While the Red Wings continue to infuse young talent still developing into the lineup, the club has now added a stronger veteran mix that should make the team more competitive this season.
"I had several options that I was bouncing around in my head with my agent, my family and everyone, but I think the Red Wings, with some of the signings that happened (Wednesday), are ready to take the next step in their evolution as a team and I wanted to be a part of that," said Perron, who won a Stanley Cup with St. Louis in 2019. "This team is definitely ready to start competing on a regular basis for playoffs and who knows what can happen from there."
Article content
Yzerman, who also added to the team's goaltending in last week's trade with St. Louis for Ville Husso, also added depth to the system on Wednesday.
Detroit signed 29-year-old centre Austin Czarnik to a two-year, two-way contract along with 25-year-old winger Matt Luff, who signed a one-year, two-way contract.
Czarnik was a one-time draft pick of the Windsor Spitfires, but never reported and attended Miam of Ohio University. He has played for Boston, Calgary, the New York Islanders and Seattle at the NHL level. Luff has played at the NHL level for Los Angeles and Nashville.
Earlier in the day, the Red Wings also announced that centre Marco Kasper, who was the eighth overall pick in last week's NHL Draft, has signed his entry-level contract, but the Austrian native is expected to return to Sweden to play next season.
twitter.com/winstarparker