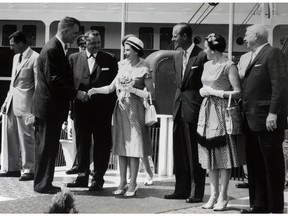 Article content
During the royal visit to Canada in 1951, Princess Elizabeth halted her cavalcade traveling down Ouellette Avenue and made an unscheduled stop when she spotted a little Black girl holding a rose.
Article content
The small girl stood in front of the Cenotaph — then located at the intersection of Ouellette Avenue and Giles Boulevard — holding a single, blue-hued rose from her mother's flower garden to honour the future Queen.
Article content
Princess Elizabeth had an attendant bring the girl to the car. The shy girl handed her Royal Highness the rose and Princess Elizabeth thanked her.
The Princess's gratitude was evident, while the little Black girl was taken by surprise. And she felt very special.
No photos of the moment were taken by the media; no interviews were recorded.
A bit of local Essex County history — and Black history — that had been missing has now been retrieved.
Wearing a turquoise dress that probably made her stand out in the crowd, that four-year-old girl was me.
Article content
Times have certainly changed. Current media would likely not have missed photographing or recording such a culturally significant moment. Nonetheless, the memory will last forever in the mind's eye of that small Black girl.
Memories of that event emerged recently when I received the QEII Platinum Pin on Sept. 6, 2022 from local MP Chris Lewis, along with 27 other Essex riding notables at Trinity United Church near Kingsville.
The recent death of Queen Elizabeth II, swift on the heels of the presentation, was a sad reminder of this cherished past event.
The Queen's passing I feel marks the end of an era of prosperity and positive growth for Canada as a loyal Commonwealth member.
The investiture of King Charles III begins a new journey for the monarchy. This King has many pressing obstacles to face.
Article content
Will he be able to resolve reconciliation with Canada's Indigenous population honouring their land rights?
Will he give an apology for Slavery to African Canadians to validate their worth as valued citizens? Will the new King likewise apologize and consider reparations to generations of slave descendants from all slave-based Black nations of the Commonwealth to forestall some of these countries withdrawal form under the Great British lion's paw?
Elise Harding-Davis, Harrow
Share Your Views
Send letters to the editor to [email protected] (Don't send them as attachments; put them in the body of the emails). Letters must include your full name, address and phone number. (We will only publish your name and the municipality where you live). Letters must be fewer than 300 words. The Star reserves the right to edit, condense and reject letters.