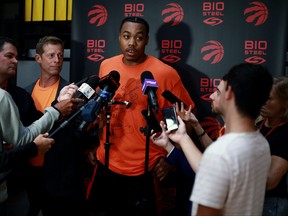 Article content
VICTORIA, B.C. — A Raptors fan looking for areas of growth from this team will automatically look at the reigning rookie of the year and ask the question: How much more is there to get?
Article content
As a rookie, Scottie Barnes was given free rein for the most part, and he thrived.
Article content
But as much as Barnes continues to improve, whether it's his actual physical stature — head coach Nick Nurse marvelled at seeing him periodically through the summer and coming away each time thinking he was bigger than the last time he saw him, even if that last time was only two weeks earlier — or his game, it's the way his teammates talk about him that really catches one's attention.
Article content
A year ago, as a fun-loving, everything-is-great-in-the-NBA newcomer, Barnes was talked about as much for his free-spiritedness and his now-infamous hugs as much, and in some cases more, than what he actually did on the court.
Barnes' rookie campaign was an overwhelming success, both from an individual standpoint and a team standpoint.
Article content
He averaged 15.3 points, 7.5 rebounds, 3.5 assists, 1.08 steals, 0.74 blocks and 35.4 minutes in 74 games for the Raptors, leading all rookies in minutes, ranking third in points and rebounds and finishing fifth in assists, steals and blocks.
From a team standpoint, his fit within the team was glove-like.
Now it's on to Year 2 and the only suggestions coming from those who have trained with him all summer and have been in the gym with him these past few days in Victoria is more expected growth with no one quite sure when or where that growth will cap out.
"He's just got to keep getting better," veteran point guard Fred VanVleet said of his second-year position-less wonder.
"He's young," VanVleet continued. "It's rough. It's early. It will happen. It sucks for the fans, and it will suck for you guys (in the media) because nobody knows when it's going to happen. But we all see the star power. We see the potential. It'll happen at some point. Another guy who we're here to support and help get better. Whatever he wants to be, he can be. We'll see how it plays out."
Article content
Otto Porter Jr., the new veteran in the mix, hasn't had as much time playing alongside Barnes as VanVleet but he saw him up close as an opponent and Barnes left an impression and he's already seen plenty of him in his early days as a member of the Raptors.
"I've been working out with him all summer," Porter said. "Very smart player, he's the future up here, he's going to do all right for himself. He's a hard worker, he's the first one in the gym every day so he's going to be our (guy)," Porter said.
Porter was then asked what he meant by "smart" player.
"Attention to detail, believe it or not," he said. "At his age, he's seen a lot of basketball. Just little things he can do on the court; at his age you're not supposed to know that."
Combine that with the physical attributes and you quickly arrive at the kind of guy who changes an organization by himself.
Article content
Barnes, for his part, likes to keep things very simple. He has a passion for the game, an ability to play it the way most could only dream, and now more comfortable than ever with a team that gives him plenty of leeway to put his stamp on the game even if it is just his second year.
His goal coming into camp, at least for public consumption, remains very simple.
"I was just hoping to come in here in shape," Barnes said. "Be ready to play. Be ready to run. Doing the same things I usually do on both ends of the floor just make an impact on both ends of the floor. So that's really what I was hoping to do."
He will tell you he feels good, he seems somewhat reluctant to talk too much about the progress of his shot which seemed to be getting plenty of attention early in the off-season.
Article content
Nurse, who spent a good part of last year imploring Barnes to shoot a little more, likes what he has seen to this point.
"I would say it feels like it's better and he's making more in the rhythm of what we're doing," Nurse said. "He's not hesitating to take them at all, the threes. He's still doing the rest of the stuff. He's got that long, slow, strong drive where he puts it in the basket. He's got that pull-up thing when he has a size advantage. But the frequency with which he's letting them go is certainly on the rise."
Vegas might not like the Raptors' chances of improving on last year's win total of 48, but every indication to date is Barnes will improve and, in the process, make dummies out of those Vegas prognosticators.
Vegas seems to be undervaluing Raptors, once again

Hines' arrival can only help take Siakam to that next level