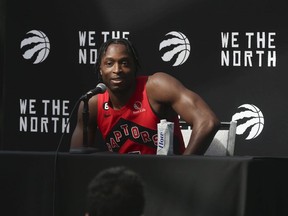 Article content
Raptors media day is over. The main topics of the gathering have been covered and now the hard work for the team is underway in Victoria, but here are a few more takeaways from the initial gathering:
Article content
Nobody in Raptor-land got too worked up over any reports of O.G. Anunoby being "unhappy" with his role in Toronto. These things should always get taken with a grain of salt (who gains from the leaks, a team, a player, or his camp, or another team hoping to sneak in on the cheap after creating some waves? (Ding ding). Though there can be fire where there is some smoke, far more often, there's nothing substantive to the reports. Anunoby said he hasn't even discussed his role with Nurse. While it's true Anunoby won't be a top scoring option, he remains the club's best and most versatile defender, one of its most accurate outside shooters and a valued member of the club. He's always been a Masai Ujiri and Nick Nurse favourite and everyone said the right things on Monday. Maybe his long-term future will be elsewhere, he signed a club-friendly deal last time and will surely be looking for a lot more down the line, and maybe he will want to be a top dog offensively, but it's also possible he likes what he's got here.
Article content
"I expect a big jump from O.G.," Ujiri said. "He played 48 games last season. I think O.G. put in some incredible work this summer. I know he had all those rumours last year, but I think O.G. is in a good place. We have almost, it's intentional that we have the same type of big-wing players to come play. He's just such a dynamic player that plays a lot of positions, can shoot the ball. I think his role is coming," Ujiri said.
Article content
"O.G.'s good, man," added Pascal Siakam. "I don't think I need to talk to O.G. He understands it, he's been in the league for a while, too, and he knows what (the NBA rumour mill is) like. We talked a couple of times this summer and I think he gets it and he has a really good team around him so he'll be alright. It's kind of the business of the NBA."
Article content
(2) Winning trumps all in Toronto. Egos are a part of the business, everyone wants their shots or their stats, but on good teams, winning cures everything. Ujiri talked about playing to win, Nurse said the organization's first goal is to win, second is to develop players and Fred VanVleet weighed in as well.
RECOMMENDED VIDEO
The point guard has to feed everyone and VanVleet doesn't think that will be an issue.
"I think if we win, then everybody is happy. I think there are enough roles for everybody," VanVleet said.
"We have a lot of talent and that's a good problem to have, but we have to find a way to play championship level basketball."
(3) Juancho Hernangomez was a reluctant movie star, but had a blast filming Hustle with Adam Sandler over a couple of years.
Article content
His sister made him audition during the pandemic, and he was stunned to get the role of Bo Cruz. The film was a hit this summer, but more enjoyable was winning gold for Spain at EuroBasket with his brother Willy, the tournament MVP. Juancho, who was in tears when his brother was named MVP, won finals MVP for good measure for some family bragging rights after a torrid finale which illustrated the three-point marksmanship he can bring to the Raptors. The 6-foot-9 (what other size would a Raptor be?) Former 15th overall selection has hit 35% of his career three-point attempts over stints with five teams, including a career-best 44% (Luke Kennard led the NBA at 44.9% for the season) for Utah in 17 games last season.
"We should be able to use him. He can stretch the floor," Nurse said, pointing out he came recommended by good friend and Spanish national team coach Sergio Scariolo, a Nurse assistant during the championship season.
Article content
Hernangomez said he grew up watching the Vince Carter Raptors and also heard good things about Toronto from fellow Spaniards Jose Calderon and Marc Gasol.
(4) Shooting was a weak point for last year's team. Those Raptors were 20th in three-point accuracy, 19th in attempts and 27th in effective field goal percentage. Nurse is looking for better shooting and also improved shot selection. To that end, the coach wants the Raptors to attack the rim far more often and to get to the free throw line more. Only eight teams scored a lower percentage of their total points from the line. Only four teams shot worse than Toronto's 60.5% from inside five feet of the rim. Only one (the New York Knicks) shot a lower field goal percentage off drives. More drives and better finishing inside will lead to more points and more kick-outs for catch-and-shoot three-pointers. Toronto boasts a number of excellent catch-and-shoot players who should benefit.
"What I do hope is that we hammer the front of the rim, I hope we hammer the free throws getting to the rim," Nurse said. "I want to be better at that because that part is like NFL football. You've got to run it a little bit to open up the pass and I think getting to the front of the rim opens up the three ball."