The Raptors shooting at an elite level was not expected, though it's only just over a week in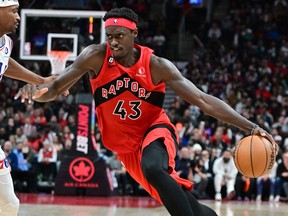 Article content
Welcome, after a bit of a delay due to a much-needed vacation, to Season 14 of my Raptors blog.
The annual reminder of what this blog aims to do: Mixing analysis, musings, stats and quotes with a bit of a lookahead to where things might be going when it comes to the Raptors.
It appears the morning after every game, except for the opener of back-to-backs, and has always featured my world famous three star selections from each game, in a nod to the Raptors being Canada's only NBA team.
Article content
Five games in is too early for much definitive analysis, but here are a few things that appear pretty clear:
— It seemed like a stretch when Pascal Siakam said on media day that his goal was to be a top 5 player. But what if he'd said Top 10? Would the "yeah right" reaction we mostly saw still would have carried the day? Because right now the two-time All-NBA forward selection sure is playing like an absolutely premier level player. He was in video game mode for much of Wednesday's convincing win over the sputtering Philadelphia 76ers. P.J. Tucker has been acquired by many teams (including the Raptors at the deadline a year before the championship season) to be a difference maker and defensive lockdown artist, yet, Siakam toyed with him. Tucker played off of Siakam, knowing the Cameroonian has a significant size, length and athleticism advantage over him and would be a constant threat to beat him off the dribble or spin on him. So Siakam had all kinds of space to let it fly and connected like he was Karl-Anthony Towns, the self-proclaimed greatest big man shooter of all time.
Let's not book a spot for Siakam at the three-point contest at all-star weekend just yet, but if this continues, even to a lesser degree, how on earth are teams going to slow down Siakam? Do go ahead and book a spot for Siakam at the all-star game.
Article content
— Nick Nurse isn't yet giving his starters the rest he promised. It's early in the season, the players are fresh and the aches and pains haven't built up yet, so we can understand why Nurse is riding his horses as he has in the past (plus Otto Porter and Chris Boucher either haven't played at all or just got back), but at some point, if he truly wants to follow through with the rest plan, he'll have to find a way to get Fred VanVleet, in particular, and even Gary Trent, more rest. Having an unbalanced roster makes it tougher, the guard options just aren't there like they are up front, but having Siakam and Scottie Barnes (and even Thad Young, who has barely played) able to easily be secondary ball-handers and also primary initiators (Young less so, but he can still do it a bit), plus the ability of O.G. Anunoby and Barnes to guard smaller players should theoretically present opportunities for Nurse to rest VanVleet or Trent even if he doesn't replace them with a fellow guard.
— This has been a bear of an early schedule and that will continue until a run of mediocre opponents in early November, but this team has shown that it once again will scrap and claw and compete and make up for some of its weaknesses. Also, ranking second in three-point accuracy, even just over a week in, was something nobody saw coming.
Article content
SMALL SAMPLE SIZE THEATRE:
Before Wednesday's game the Raptors ranked just 22nd in offensive rating (points scored per 100 possessions), but a sturdy 10th in defensive rating. This is how quickly things can change stats-wise in the first few weeks: That offensive clinic against the sleep-walking Sixers bumped the Raptors up to 14th in offensive efficiency, with the defence slipping a bit to 14th as well, thanks to the potent Sixers having little trouble getting buckets themselves.
It's interesting that Toronto is playing at the second-slowest pace in the NBA, behind only Philadelphia. Intriguing, in part, because they don't have a lumbering centre like some of the other slower-moving teams. Pace doesn't mean everything (lakers second and are 0-4), Kings fourth and 0-3).
THREE STARS:
1 Gary Trent Jr.
2 Pascal Siakam
3 Scottie Barnes
OCTOBER 18 VS CAVALIERS
1 O.G. Anunoby
2 Donovan Mitchell
3 Pascal Siakam
VS. NETS
1 P.S.
2 Kyrie Irving
3 Fred VanVleet
VS. HEAT (1)
1 Jimmy Butler
2 Gary Trent Jr.
3 Kyle Lowry
VS. HEAT (2)
1 Precious Achiuwa
2 Jimmy Butler
3 FVV