In a victim impact statement she read out in court, Colleen Critchley said the attack has left her fearing for her safety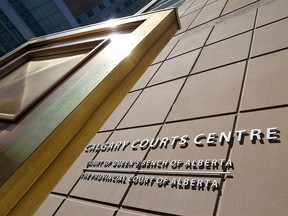 Article content
The random stabbing of a woman on a downtown Calgary street — by an attacker who told police his intent was to murder someone — has landed a city man a 21-month jail term.
Article content
Ethan Daryl Lawless, 20, will also have to serve three years on probation, half of which will involve a nightly curfew, provincial court Judge Greg Stirling said Thursday.
Lawless earlier pleaded guilty to aggravated assault in connection with an attack last July 6, in which he repeatedly stabbed Colleen Critchley after approaching her from behind.
The 11:40 p.m. attack on the southwest corner of 7th Avenue and 1st Street S.W. has left Critchley feeling like she's in a prison of her own, court was told.
In a victim-impact statement she read out in court, Critchley said the attack has left her fearing for her safety.
"Now, at 30 some odd years old you have made me afraid of people. I have no trust or faith in them," Critchley said.
Article content
"Now I feel like I live in jail, constantly worrying and watching my back."
Crown prosecutor Ryan Jenkins, who had sought the maximum provincial jail time of two years less a day, plus the probation, said there were multiple aggravating factors for Stirling to consider.
Among them was the fact Lawless specifically armed himself with a knife with the intent of harming someone while he was high on methamphetamines.
"The accused told the police . . . that he went out with the intention to kill someone," Jenkins said, although he noted Lawless later told psychiatrist Dr. George Duska he was only looking for a fight.
But the prosecutor said there were also factors that justified a sentence shy of a penitentiary term for the Calgary resident.
Article content
Jenkins noted Lawless was diagnosed with schizophrenia, although he was not suffering a psychotic episode at the time of the attack and was deemed to have an IQ of 55.
Defence counsel Curtis Mennie said Lawless, who was just 19 at the time and had no prior criminal record, was deeply remorseful for his conduct.
Lawless also addressed court, apologizing to Critchley.
"I know that I did wrong and I just want to take the time to say that I'm deeply sorry for what I've done," he said.
"I just want to take the time to apologize to Ms. Critchley."
With credit for so-called dead time on remand, Lawless will have to serve about 3 1/2 more months of custody before his probationary term begins.
Twitter: @KMartinCourts