Reviews and recommendations are unbiased and products are independently selected. Postmedia may earn an affiliate commission from purchases made through links on this page.
Article content
It was April 29, 1992. Los Angeles was burning.
Article content
However, the band that would go on to channel the rage of the L.A. Riots into a career as one of the biggest rock acts of the 1990s wasn't even there for it. The four members of Rage Against the Machine were in Alberta, on the shores of Lake Louise, when they first heard the news.
Article content
Ronnie Champagne remembers the moment well.
"They're on a pay phone in front of the Chateau and (lead singer) Zack (de la Rocha) is talking to his roommate. And his roommate is screaming, 'They're burning the mother—- down!'" said Champagne.
"And Zack's looking at us, and I see the look in his eyes, and I know what that look is. That's terror."
The irony is not lost on Champagne.
"That thing that they were fighting — fight the power, fight the man — they weren't even there in the riots because they were there with me, up here in Calgary."
Article content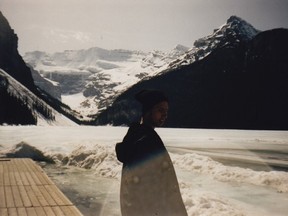 Calgary fans were looking forward to hearing the band play live at the Saddledome in March 2023 — a concert that had twice been postponed since 2020. But this week the band cancelled the remainder of their 2022-23 tour as de la Rocha is dealing with a serious leg injury sustained three months ago.
It's a sure bet most fans don't know about the band's early connection to this city.
For 10 days in the spring of 1992, a then almost-unknown Rage Against the Machine (hereafter referred to just as Rage) came to Calgary to begin work on their first, eponymous album.
Champagne had been tapped by the band's record label Epic as a possible producer. While based in Los Angeles in the late 1980s, he'd found success as a producer and engineer with bands like Alice in Chains and Jane's Addiction.
Article content
But due to an immigration snafu, he had to leave the county for six months. He returned to his hometown of Calgary, and that's when he got a call from his friend Michael Goldstone, who was acting as Rage's A&R guy.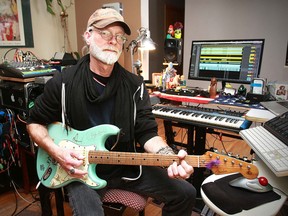 "He called me up and said, 'Where the f— are you? I've got this band. I don't know what the hell it is. I don't know what to do with it. Are you interested in hearing it?'
"I said, 'Yeah, Fed Ex me up a cassette.' "
Champagne said he listened to the tape and right away he knew exactly what it was.
"The first thing I listened to was the words, and I said, OK, this is going to strike a chord with a lot of people, just because it's truth," said Champagne.
He also knew how he wanted to produce the record.
"The most important thing was staying true to its street feel," said Champagne. "Because it sounded to me like hard electric protest songs. Like Woodie Guthrie with Marshall stacks. And I totally bought that instantly."
Article content
Since Champagne couldn't fly down to L.A., the record label flew the band to Calgary.
Danny Patton, the owner of Airwaves Recording Studios, was tapped to help engineer the sessions.
"I remember the day they got here — or was it the day after? — they were all on the phone talking to their parents because there was a big earthquake that day," said Patton.
(The earthquake was likely the Joshua Tree 6.3 magnitude earthquake on April 22, 1992, which was felt in L.A.)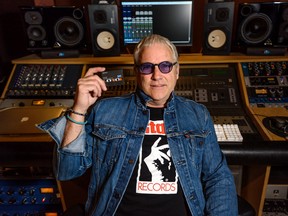 He set them up in his studio, which was then located on 16th Avenue and 14th Street N.W. Like Champagne, Patton was also struck by Rage's unique sound.
"I said, 'It's like Led Zeppelin with a rap singer.' Back in the '90s when that came out, nobody was doing that."
He said at the time, he was a bit skeptical the rap-rock mashup with a heavy dose of swearing would even fly. "About a year later, boy was I wrong," said Patton.
Article content
Champagne had been listening to that cassette he'd received in the mail, making notes before the band arrived. As a producer, he wanted to capture the energy of their live sound and make it work on a recording. For him, that meant stripping down the sound a bit.
"There was a lot of stuff that was a little too progressive, because I believe Tom was coming out of a prog rock band at that time," said Champagne. "It was really brainiac math. And I was like, you know, just simplify it so the words are hitting home. Take anything that would be superfluous and just chop it out."
When the band arrived, Champagne recalls going over the arrangement of every track on what would become their 10-song debut album.
"It was everyone sitting in a circle," he said. "It was as much discussion as playing. We probably worked on a song or two a day. Not full days or crazy hours — probably six-hour days."
Article content
After nearly 30 years, memories have faded a bit. While Champagne recalls recording all 10 songs that ended up on the first album at the 16th Avenue sessions, Patton said they only laid down three or four songs on master tapes which, he says, are long gone. He thinks the band may have taken those with them. But he still has a copy recorded on digital audio tape in his collection.
From his seat in the control room, Patton saw a band that was all business.
"I remember they were really straight," he said. "Nobody was drinking or doing drugs. They seemed pretty normal."
For Patton, the band's guitarist, Tom Morello, really stood out.
"I always remember how the guitar player would kind of not want you to see what he was doing. If people were looking at him he'd turn around so you couldn't see, because he had these pretty wild sounds."
Article content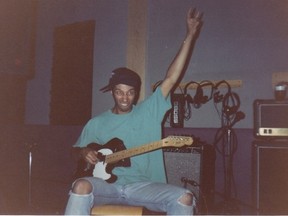 In 2015, Morello would make the 40th spot on Rolling Stone's list of the 100 greatest guitarists of all time.
Patton doesn't remember Morello having many effects pedals to get his sound.
"I think he just had a unique way of playing guitar that nobody had really heard of before," he said.
Champagne remembers de la Rocha's raw power in the studio. "He doesn't just sing, he commands the stage. He takes over."
After those 10 days in the studio, Rage left town, and that was pretty much the end of Champagne's work on the album.
In the end, the record label went with another Canadian producer, Garth Richardson, whose credits include Mother's Milk by the Red Hot Chilli Peppers, and Alice Cooper's Constrictor.
But how does Champagne feel about that?
Article content
"That's just business baby," he said. "I've done whole records and by accident somebody left my name off. That's happened to almost everyone I know. It's no big thing. The people I work with — they know."
The album, ultimately recorded at the legendary Sound City Studios, was released in November 1992, and it went all the way to No. 1 on the Billboard Heatseekers chart.
Champagne said the intention of the Calgary sessions was not to cut the album, but rather to prepare for recording.
"They sounded good and everything but it was never intended to be a released product," he said. "It was more of a working situation, like you would do in a rehearsal studio."
Patton said when he finally did hear the completed album, it wasn't all that different than the tracks they had laid down. Many of Champagne's suggestions and arrangements — that stripped down raw sound — were on the final cut.
"I didn't really hear anything any different," said Patton. "So I thought, jeez, we actually probably could've done that record. But whatever."
[email protected]
Twitter: @brodie_thomas