"We never thought we would have patients in a hotel for more than two years."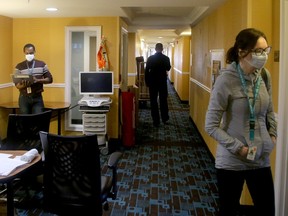 Article content
When the Queensway Carleton Hospital moved some patients into a retrofitted Kanata hotel in March 2020, officials thought it would be a temporary, pandemic measure.
Article content
It was not, and the need for additional bed space with specialized supports is likely to continue for the foreseeable future, but at a new location.
Article content
Two and a half years later, the Fairfield Inn & Suites in Kanata is now resuming its primary business as a hotel and Queensway Carleton has moved its patients from the hotel to a newly renovated offsite patient unit at an Ottawa retirement home.
It is not what hospital officials expected at the beginning of the COVID-19 pandemic.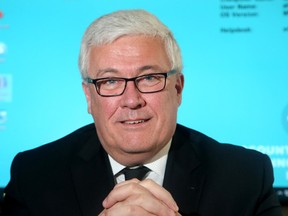 "When we first opened the hotel-turned-hospital, we thought it would be temporary. Over the last two and a half years, it has become a critical part of our operations, enabling us to safely care for more patients than ever before," said Dr. Andrew Falconer, the hospital's president and CEO.
Article content
The new offsite unit at Park Place retirement home in Ottawa's Central Park neighbourhood allows the hospital to continue caring for those patients "while we plan for the future," Falconer said.
The hospital cared for 56 patients at the Fairfield Inn and has the same number of beds — staffed by hospital employees — at Park Place. Queensway Carleton has a total of 355 beds.
"We never thought we would have patients in a hotel for more than two years," said Sylvia Pearce, the director of geriatrics, rehab, ALC, patient flow, discharge services and other health professions at Queensway Carleton. But the hospital does not have the capacity to reabsorb those 56 patients into its main campus, she added.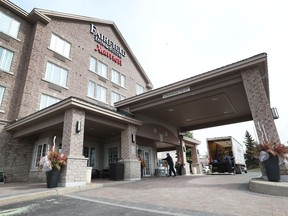 On Wednesday, with the final transfer of patients from Fairfield to Park Place under way, Queensway Carleton Hospital reached 113 per cent capacity and warned people to expect longer than usual emergency department wait times.
Article content
But the hospital's new off-site unit is doing more than helping it deal with overcrowding, Pearce said. It is also helping more patients eventually leave the hospital.
About half of the hospital patients now at Park Place are receiving transitional care and rehabilitation, aimed at returns home or to some form of congregate living. The other half are so-called ALC (alternate level of care) patients, a group that is the focus of provincial efforts to free up hospital beds.
Ontario's controversial Bill 7 aims to move some patients out of hospital beds and into long-term care homes more quickly by moving them to homes where they don't want to go, in some cases, and charging them $400 a day to remain in hospital if they refuse.
Article content
But Pearce said there remained a significant number of ALC patients who could not be moved to long-term care homes because their needs — often behavioural — exceeded the care the long-term care home could provide. They are the patients more likely to stay in hospital beds longer, sometimes in restraints, even with the introduction of Bill 7.
Pearce said the unit at Park Place would include special behavioural supports that, in a more home-like setting, would help prepare some of those patients to eventually move to long-term care or retirement homes and out of the hospital. The surroundings and the supports will be a big part of that process, she said.
"There is really something to be said about having access to an outdoor courtyard, recreational and behavioural therapies and a residential environment with a different focus of care," she said.
Article content
Pearce said it was likely that the hospital would continue to need off-site spaces, such as the two floors at Park Place, for some time. She said using that space to help more patients leave the hospital was the right thing to do.
"I think it is our responsibility, instead of saying the hospital is not the right place, to determine what is the right care and how do we do it to support them to move."
Fairfield Inn general manager Dave Fowler said working with the hospital and taking care of members of the community had been "a wonderfully rewarding experience" for the hotel.
'Immensely grateful' Ottawa family's search for a doctor is successful

Search for high-tech dementia support takes on new urgency amid rising rates, aging population