All of the products mentioned in the recall were sold through July 13 at numerous Quebec stores.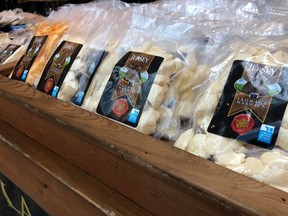 Article content
The Quebec ministry of food and agriculture (MAPAQ) on Thursday announced that certain dairy products from the Fromage Warwick company should not be consumed because they were not prepared or packaged in a manner to ensure their safety.
Article content
In a communiqué issued Thursday morning, MAPAQ reported that the recall covers five types of Jersey cheddar cheese, a Lemeric reblochon-type soft cheese with a washed rind as well as two-litre sized containers of milk.
All of the products mentioned in the recall were sold — refrigerated or at room temperature — up until and including July 13 in numerous stores in Quebec.
The ministry noted that Fromage Warwick, based in the Eastern Townships community of the same name, was proceeding voluntarily with the recall. Customers who purchased the products are invited to return them to their point of sale or throw them out.
While the products may not show any sign of alteration or emit a suspicious odour, their consumption could represent a health risk, the ministry said. Thus far there have been no reports of illness linked to the products.
Meanwhile pregnant women, persons with weakened immune systems, children and the elderly are advised that Franc-Gilles Cheshire-type farm cheese was made with non-pasteurized milk, a detail that is not mentioned on the label. Units of that product were also on sale until July 13.