The Falcons appear to have big plans for the 6-foot-5, 318-pound offensive lineman from Victoriaville, who they drafted in the second-round.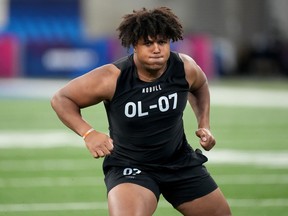 Article content
Matthew Bergeron isn't sure where he'd be today had he remained at home and attended a Quebec university.
Article content
Instead, the offensive lineman from Victoriaville went to Syracuse University — the only full NCAA scholarship offer he received — and is preparing for the Atlanta Falcons' rookie mini-camp this weekend after being selected in the second-round (38th overall) of this year's NFL draft.
Article content
Bergeron was the first of a record five Canadians taken in the draft.
"I'm ready for anything and I'm going in with the mentality of giving it my best and we'll see what's going to happen," the 23-year-old said Wednesday afternoon on a videoconference call organized by NFL Canada. "I feel like I never gave up. We had some years and tough moments at Syracuse in the past, but I kept working. I was drafted 38th, but in 2020, was part of one of the worst offensive lines in college football. Our names were dragged through social media. I kept working and I'm where I'm at right now."
Article content
The Falcons thought so highly of Bergeron, they moved up in the draft to secure the services of the 6-foot-5, 318-pound behemoth, trading the 44th and 110th overall picks to Indianapolis.
Bergeron was a four-year starter with the Orange, along with a second-team all-ACC selection last season. He's highly regarded as a run blocker, while working to improve his pass blocking skills. Bergeron also was a team captain at Syracuse while making the athletic director's honour roll six times.
Atlanta had a poor 7-10 record last season and the team is committed to running the ball under head coach Arthur Smith. The Falcons averaged 160 yards rushing per game last season and with their first-round selection this year took Bijan Robinson, considered the top draft-eligible tailback.
Article content
Bergeron played offensive tackle at Syracuse, starting on the right side before making 32 consecutive starts at the all-important left-tackle position, protecting the quarterback's blind side. The Falcons are set at tackle, with Jake Matthews and Kaleb McGary both under contract for three seasons.
But Atlanta has an opening at left guard after Elijah Wilkinson signed with Arizona as a free agent. Smith has stated the intention is to try and move Bergeron there, although he'll receive competition from former starting centre Matt Hennessy along with 2021 third-round draft choice Jalen Mayfield.
Bergeron, who was raised by a single mother after his parents divorced at a young age, said he's prepared for the challenge.
Article content
"It's important to be versatile if you want to play for a long time in the NFL," he said. "You have to be able to play multiple positions, especially along the offensive line. During the draft process I was working at different positions — tackle, guard and even some centre reps. I'm ready for anything and I'm going in with the mentality of giving it my best and we'll see what's going to happen.
"I prepared for guard, but I haven't had live reps," Bergeron added. "That will be the biggest change. I'm not really worried about it because I feel like my athletic ability, mindset and the way I approach the game. I see it as a challenge. Hopefully everything's going to go well."
The Falcons met with Bergeron three times — at the Senior Bowl, NFL Combine and Syracuse's pro day — prior to the draft. Smith told Atlanta media members the organization has a clear vision for the prospect and is "excited" having him part of the rebuilding process. Smith added he was impressed by the power in Bergeron's game and believes he's "wired" the right way.
Article content
Bergeron wasn't selected in last week's CFL draft, the nine franchises obviously believing he's destined for a long and prosperous career in the U.S. And, while Bergeron said it was once his dream to play in Canada, that option appears remote for the time being.
"I'm grateful to be Canadian and know, if things don't go my way in the NFL, I can come back and play in the CFL one day," he said. "But now I have the chance to play in the NFL."
Alouettes first-round draft pick Lwal Uguak pursuing NFL dreams with Falcons