At their first caucus meeting since the election, they agreed the party needs to rekindle support from francophones outside Montreal.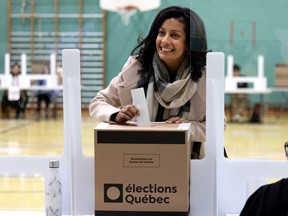 Article content
YAMACHICHE — The Quebec Liberal Party needs "stability" over the coming years as it tries to rebuild bridges with the francophone majority, caucus members said as they gathered Wednesday in Yamachiche, 20 kilometres west of Trois-Rivières.
Article content
The first meeting of the caucus since Monday's election will allow the 125 elected and defeated candidates to review the campaign and comment on what's next.
Article content
As they arrived, everyone seemed to agree on the necessity of better dialogue with francophones, who all but abandoned the party, leaving it with only one seat outside of Greater Montreal.
Support from anglophones and allophones kept the Liberals as the official opposition with 21 seats. Leader Dominique Anglade will nevertheless be up for a confidence vote in 2023.
Julie White, who came fourth in Quebec City's Jean-Talon riding, said her party can't hope to form the government so long as it continues to be shut out of the regions, and in particular the Quebec City region.
Article content
Saul Polo, defeated in Laval-des-Rapides, and Marc Tanguay, elected in LaFontaine, said they would continue to support Anglade.
"The party, the activists, the elected representatives deserve some stability … to be able to learn the right things, reach the right conclusions … to be able to prepare for four years from now," Polo said.
Enrico Ciccone, re-elected in the Marquette riding, took an analogy from his past as a hockey player, noting that rebuilding a team usually takes about five years. The Liberal party will do that over several years, he said.
Anglade declares a victory for unity in Quebec as Liberals keep opposition status

After the election, what now for the Quebec Liberal Party?