Party members hope negative publicity for François Legault's CAQ that has dominated coverage in the last week will bring some voters back to the fold.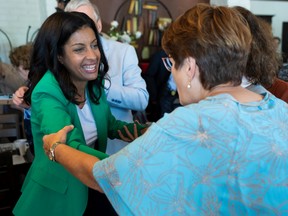 Article content
Dominique Anglade put a brave face on her party's fortunes Friday, pledging the Liberal Party of Quebec would win more seats than the 27 it had when the provincial election campaign began, despite polling figures predicting the opposite.
Article content
In the last two weeks, the Liberals have been conducting a blitz of town halls, walkabouts and radio interviews in their local strongholds in the Montreal region, and in ridings in Quebec City and the Eastern Townships that up until the Coalition Avenir Québec wave of 2018 had been Liberal strongholds.
Article content
While polls show support for the Liberals has barely budged since the start of the campaign, with the CAQ slipping five points to 38 per cent support versus 16 per cent for the Liberals in the latest Léger poll, party members are hoping negative publicity for François Legault's Coalition Avenir Québec that has dominated coverage in the last week will bring some voters back to their fold.
Earlier in the week, Legault was buffeted by comments made by his immigration minister that immigrants didn't work, learn French or adhere to Quebec values. On Friday, Radio-Canada broke the news that the CAQ government paid a consulting firm $35,000 a day during the pandemic to help the government steer its management, without informing the public of the expense.
Article content
"The issue is that we are lacking information," Anglade said, speaking to reporters outside Montreal's city hall after a meeting with Mayor Valérie Plante Friday morning. "François Legault is once again showing a total lack of transparency, something we saw with the Horne Foundry issue, with the third link in Quebec City, and during the pandemic. He is someone who does not want to share information so he won't be challenged."
She reiterated her party's demands that a public investigation be held into the government's management of the pandemic.
In the wake of this week's revelations, Anglade's central theme that the Liberals are the best positioned to steer the economy has shifted to promising her party will unify Quebecers as opposed to dividing them, as she says Legault is doing.
Article content
"I am here to tell you you belong," she told a gathering of about 40 supporters at St. Paul's Anglican Church in Greenfield Park on Montreal's South Shore Friday afternoon.
They told her they were worried about Bill 96, frightened it would mean they couldn't get explanations from their surgeons in English, or that their anglophone clients suffering from dementia would have even more difficulty finding help in their language. They told her they were upset with how the Liberal Party had handled the Bill 96 file, that it caused them to lose trust in the party.
"All I can tell you is I'm a person of principles," Anglade said, noting that her party had voted against the bill. "I was raised in a family where you were taught to value all opinions, and to collaborate."
Article content
Anglade has pledged she will stay on after the Oct. 3 elections, no matter the outcome. Polling aggregator Qc125.com has her running neck and neck with her CAQ and Québec solidaire opponents in her Montreal riding of Saint-Henri—Sainte-Anne. Polls by Mainstreet and one commissioned by her party indicate she has a 10-point lead over her CAQ adversary.
Qc125.com predicts the CAQ will win 92 seats (up from the 74 they took in 2018) and the Liberals will get 20, making them the official opposition party. Québec solidaire is estimated to win 10 seats, same as the last election, and the Parti Québécois is forecast to take three seats, down from the 10 it won in 2018.
Anglade visited the riding of La Piniére on Montreal's South Shore on both Thursday and Friday, as well as nearby Laporte on Friday. Both were won by wide margins in 2018 by the Liberals. This year's polling has them neck and neck with the CAQ.
On Saturday, Anglade's team travels to Gaspésie, Magdalen Islands, and then to Kuujjuaq in northern Quebec (where the CAQ is projected to win, as it did in 2018) before returning to Montreal Sunday evening.
"Wait till Oct. 3," she said. "I think you'll be surprised."
Quebec election: Legault says CAQ would table a bill to protect Indigenous languages

How close was a private firm to Quebec's management of COVID? Duhaime demands inquiry