Following up on Bill 96 overhauling the Charter of the French Language, François Legault now says a CAQ government would aim to present a new bill protecting Indigenous languages.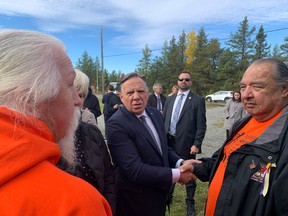 Article content
AMOS — François Legault opened the door Friday to more language reforms if he is re-elected, but this time they would be to protect those spoken by Quebec's Indigenous peoples.
Article content
Arriving for a ceremony marking National Truth and Reconciliation Day in his capacity as premier, Legault was warmly greeted by community leaders, but some said that while Quebec's Indigenous Peoples are part of Quebec, they at times feel ignored including in this election.
Article content
"I can promise you if I am chosen we are going to spend more time with you," Legault said, responding to residential school survivor Édouard Kistabish after he mentioned the lack of interest in Indigenous issues by all the parties.
"We need to know each other better and try to move forward together, as equals, nation to nation, community to community."
Legault then added that on top of agreements that he wants to sign with all the communities to improve economic, health and education issues, he has heard calls to help protect and promote Indigenous languages.
Article content
"As for protecting your language, we are well placed to understand this with the situation of French in North America," Legault said.
Kistabish recalled that when he was forced to become a student at what was then the Saint-Marc-de-Figuery residential school as a seven-year-old, the Algonquin language was not taught by the religious community running the school. He also suffered physical abuse and witnessed sexual abuse.
During last spring's committee hearings examining Bill 96 overhauling the Charter of the French Language, Indigenous leaders told Legault's Coalition Avenir Québec government that the legislation posed a threat to their communities because of the stricter French education rules.
They specifically asked to be exempted from the bill and vowed to fight it in the courts.
Article content
After the government rejected any special status for the communities and insisted Bill 96 does not affect Indigenous Peoples, Québec solidaire co-spokesperson Manon Massé tried to table an amendment to the bill to protect Indigenous languages in much the same way Bill 101 protects French.
That, too, was rejected by the minister responsible for Bill 96, Simon Jolin-Barrette. Later, Quebec Indigenous Affairs Minister Ian Lafrenière said Quebec would find solutions to their concerns.
On Friday, Legault took it a step further, making finding a solution an election promise. He said while French will always be vulnerable, the language situation for many Indigenous communities "is much more critical than French."
Article content
"We have to help Indigenous communities to ensure their children and grandchildren keep their original languages, native languages," Legault said at his morning news conference. "I am ready to make an effort, even invest. If I put myself in their shoes, I would say it's important to protect these languages.
"We are open and would like to work on that in another bill," Legault said. "Bill 96 was to protect French. It wasn't to protect Indigenous languages, but in another bill, in the next mandate, we are very open to negotiate this with the Indigenous people."
The fragile status of many Indigenous languages has been well documented with some efforts — especially in some schools — to keep them from disappearing. There are nine languages still in use: Montagnais, Naskapi, Inuktitut, Cree, Algonquin, Atikamekw, Mohawk, Abenaki and Micmac.
Article content
There are 11 Indigenous nations in Quebec spread out in 55 communities.
Legault's day started with a visit to the site of the former Saint-Marc-de-Figuery residential school near Amos in the Abitibi region, about 600 kilometres northwest of Montreal.
The school operated from 1955 to 1973 when it was closed and demolished. It was one of 12 such schools operated in Canada by the religious orders and the federal government. On his visit to Canada and Quebec in August, Pope Francis expressed sorrow and apologized for what happened in those schools.
All that remains of the school are the original steps with a monument in front. Legault added a child's pair of slippers to the pile of shoes and stuffed toys already in place before standing silently for a short prayer.
twitter.com/philipauthier
'If every child matters, then show up': Montrealers to march for reconciliation

Anglade faces tight race in own riding, 'double-edged sword' as Liberal leader