In Laval, where the political map is expected to be redrawn in the CAQ's favour, the need for workers is a "complete nightmare."
Article content
The Gazette is visiting what are expected to be some of the more hotly contested ridings in the Montreal area, and examining how key campaign issues are resonating there. Today: Laval and immigration.
Article content
For weeks now, Laval-based clothing entrepreneur Carine Villeneuve has been grappling with the consequences of Quebec's seemingly endless workforce shortage.
Article content
"One of our knitting technicians had a cycling accident this summer. He's been out for a month, and we just can't find a replacement," Villeneuve, a vice-president at the family-owned apparel maker QSD Inc., said in an interview. "We had one person on our list as a possible hire, but they found another job in the meantime. This is a very specialized position. It's not like trade schools train tons of knitting technicians."
Restaurant industry executive Peter Mammas, whose company Foodtastic has about 15 restaurants in Laval as part of a pan-Canadian network of about 750 establishments, is also on the lookout for workers — hundreds of them. Operating hours have shrunk as a result of the lack of staff, with some restaurants having to shut for lunch or close on weeknights at 8 p.m. instead of 11 p.m., he said.
Article content
"The need is dire," said Mammas, whose banners include Enoteca Monza, La Belle et la Boeuf and Nickels. "Just for our restaurants, tomorrow morning I would take 200 people to staff our kitchens. When the second lockdown happened in the fall of 2020, we lost a lot of lifetime employees. So nowadays when we're trying to fill positions in the back of the restaurant, whether it's chefs, cooks or dishwashers, it's a complete nightmare."
Stories like these illustrate the travails faced by many entrepreneurs in Laval — and, indeed, by thousands of businesses throughout the province. With retiring Quebecers now outnumbering those who are entering the workplace, Quebec will need to fill about 1.4 million jobs between now and 2030, according to an analysis prepared this year by the provincial labour ministry.
Article content
It remains now to be seen whether the labour crisis will affect the vote in Laval, where the Liberal Party of Quebec won five of the six ridings in 2018.
With 438,366 inhabitants as of 2021 and median income of $40,400, Laval is Quebec's third-most populous city after Montreal and Quebec City. Immigrants made up about 29 per cent of the population in 2016, roughly comparable to the situation in Montreal and almost triple the provincial average. That made Laval the third-largest region of destination for newcomers who settle in Quebec.
As Oct. 3 draws nearer, the political landscape in Laval appears to be shifting. Projections compiled by the Qc125 website show the Coalition Avenir Québec — which captured the Ste-Rose riding in 2018 and finished a strong second in the other five electoral races — could win up to five Laval seats this time around, holding on to Ste-Rose and shifting the island's colour from red to blue in Fabre, Vimont, Laval-des-Rapides and Mille-Îles ridings. Only Chomedey looks like a relatively safe bet for the Liberals.
Article content
Because of its vast size and diverse population, Laval isn't considered a bellwether electoral region, according to Christian Bourque, a vice-president at the Léger polling firm. Laval's Vimont riding was among the first — in a 2002 byelection — to elect an MNA from the Action démocratique du Québec, the forerunner to the CAQ. On the federal stage, Laval voters have elected MPs from the Liberal Party of Canada, the Bloc Québécois and the New Democratic Party in recent years.
"Laval is not really loyal to any party, with the exception of Chomedey, which has traditionally voted Liberal," Bourque said. "Laval voters have let themselves be wooed by a number of parties, and ridings have often had a tendency to change according to who's in power. Given that history, there would be a certain amount of logic involved if the CAQ won a majority of seats this year."
Article content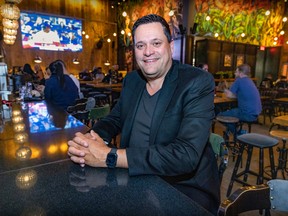 Despite Laval's relatively large foreign-born population, analysts such as Bourque say immigration's role in the Oct. 3 election will probably be limited. In a Léger poll of Montreal and Laval voters, published earlier this month, only three per cent of voters ranked immigration as the top campaign issue — well behind topics such as inflation, health care, language and climate change.
That's not to say immigration isn't a major issue in business circles. With the CAQ government repeatedly insisting Quebec shouldn't take in more than 50,000 immigrants a year in order to integrate them properly, lobby groups such as the influential Conseil du patronat du Québec have warned the province would face economic decline unless it takes in at least 80,000 newcomers annually.
Article content
In May, then immigration minister Jean Boulet indicated that he thought it would be "reasonable" for Quebec to accept up to 58,000 immigrants per year — before hastily walking back his comments.
The CAQ's platform doesn't actually mention immigration quotas, though it repeats a long-stated goal of wresting more powers away from the federal government. In the Sept. 15 televised debate, CAQ Leader François Legault warned that if Quebec doesn't obtain more powers over immigration, it could eventually end up like Germany or Sweden, which have struggled to integrate immigrants.
Of the other four major parties, only the Parti Québécois agrees with the CAQ that Quebec should curtail immigration. A PQ government would limit newcomers to 35,000 a year in a bid to "exert less linguistic pressure, as was the case in the 1990s." All economic immigrants would be required to have a knowledge of French before their arrival.
Article content
By contrast, up to 70,000 immigrants would be allowed in each year if the Liberals won power, while the figure would range between 70,000 and 80,000 under a Québec solidaire government. While the Conservative Party's platform doesn't cite immigration numbers, leader Éric Duhaime said earlier this month a cap of 50,000 would be "acceptable."
"The battle over immigration quotas is somewhat technical, but the way parties talk about immigration may well have a bigger impact on the decision of Quebecers," Bourque said. "Mr. Legault has sometimes associated immigration to violence before correcting himself. It's obvious that those comments play off a certain fear, which is often a sentiment expressed by the CAQ's core clientele — Quebecers age 55 and over, who mostly live in the regions where there is little immigration. For them, this fear is real. But it's clear that immigration won't be the ballot box question in this election."
Article content
It's a different story for business owners, some of whom say their very survival hinges on having access to a wider pool of labour.
In a Canadian Federation of Independent Business survey published last month, 86 per cent of Quebec small and mid-size company owners singled out lack of personnel as the most difficult issue to overcome in 2022, just after rising costs. Almost 40 per cent of employers have had to turn down new contracts because they lack the staff to perform the work, CFIB found.
"By and large, I would say that political parties understand the needs of the labour market," Conseil du patronat president Karl Blackburn said in an interview. "When I look at the proposals put forward by the various political parties, I'm relatively satisfied because both Québec solidaire and the Liberal Party are very close to our recommendations, while the CAQ has stuck to its 50,000 target. Only the PQ is completely off-track." 
Article content
The labour shortage "is not a good problem to have," added François Vincent, head of Quebec operations at CFIB. "Because of Quebec's aging demographics, we have several years of tough sledding ahead and we need the government to put together a strategy that recognizes immigration as one of the solutions. Let's hope the last stretch of the campaign will allow the parties to put more emphasis on the problems of small businesses."
Whoever wins the election, business groups such as CFIB are adamant the next government must resume public consultations aimed at devising a three-year plan for immigration in short order. Although this process was due to take place in 2022, the CAQ government decided to postpone it until next year, citing the upcoming election.
Article content
Conseil du patronat, meanwhile, is aiming to hold a forum on immigration and labour as soon as this fall that would allow government and business representatives to discuss concrete steps to solve the problem.
"There's never been a period in Quebec history where the need for a successful immigration policy has been greater," CFIB's Vincent said. "There are jobs to be filled everywhere, and the number never stops increasing."
Mammas, Foodtastic's chief executive, struck a similar note of concern.
"When we're closing restaurants at 8 p.m., you know things are severe," he said. "Our industry needs more workers, and we need the Quebec government to allow more immigrants in."
CAQ's lead drops, but Legault remains headed toward a majority: poll

Boosting immigration to 80,000 'not desirable, and it won't happen': Fitzgibbon

Quebec election: Affordable housing a growing concern in trendy Verdun

Quebec election: As inflation hits hard, voters skeptical about a fix