The Quebec Liberal leader said an investment of $4 billion would allow for better ventilation in classrooms and the construction of 40 to 50 schools.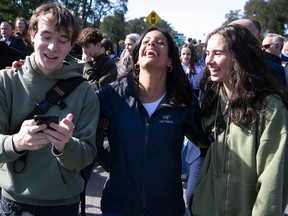 Article content
At a Quebec election campaign stop in Montreal North Monday morning, Liberal Leader Dominique Anglade promised that if elected, her government would invest $4 billion to upgrade infrastructure and air quality in public schools and build more structures. Of that sum, $500 million would go toward better ventilation in schools. Anglade said the investment would allow the construction of 40 to 50 new schools.
Article content
Anglade's first stop of the day was in the Montreal North riding of Bourassa-Sauvé, a Liberal stronghold since it was created in 2003. Won by a wide margin by former journalist Paule Robitaille in 2018, the outcome is less certain this time.
Article content
Liberal candidate Madwa-Nika Cadet has a slight lead over her CAQ adversary Absa Diallo, according to poll-aggregating website Qc125.com, 37 per cent to 30 per cent. But with a margin of error of seven per cent, it remains a close race.
In the afternoon, her campaign bus will shift to her own riding, Saint-Henri—Sainte-Anne, where poll predictions show Anglade is in a dead heat with Coalition Avenir Québec and Québec solidaire. Qc125.com is predicting the riding will go to QS, with Anglade finishing in third place. But the site also notes that support for Anglade has jumped nearly 10 per cent in recent days.
Live – Quebec election: One in 10 have already cast ballots, with surge of voting in Quebec City

Quebec election: It's not business as usual amid 'dire' labour shortage

Candidates fire off good zingers in final TV exchange