"Calgary can have its stampede and its cowboys; we're doing something else."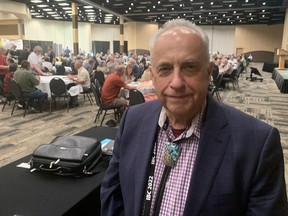 Article content
After an absence of more than a century, plains bison are roaming the prairies around Saskatoon. Ernie Walker hopes the city becomes become synonymous with the animal.
Article content
It deserves to be the world capital of bison, he told dozens of ranchers, researchers and conservationists in a conference hall on Wednesday.
The International Bison Convention only occurs in Canada every 10 years and runs until Friday. Walker, the chief archaeologist at Wanuskewin Heritage Park, spoke to the StarPhoenix about placing Indigenous history at the centre of the story of the bison across borders.
Q: Why should Saskatoon be 'the bison capital of the world'?
A: I'm not kidding. I've excavated in Riversdale, on City of Saskatoon land — famous sites — west and northwest of Saskatoon. At Wanuskewin, 95 to 96 per cent of the bones we've excavated have been bison. This place is about bison.
I was born here, so I get to say this: I wish Saskatoon celebrated its western history a bit more and celebrated the stories that we have. Wanuskewin is the centrepiece, but it's not the only piece. Calgary can have its stampede and its cowboys; we're doing something else.
Q: The story you're telling about bison isn't necessarily a "Canadian" story. It sounds like more of a western North American story.
A: The 49th parallel doesn't mean much to me. My point is you can't talk about the grasslands, the prairies, the Great Plains without talking about the bison. And you can't talk about the bison without talking about the Indigenous people of the plains region, which is why these things go together.
It drives me particularly nuts when people say, "It's the prairies, there's nothing there. It's barren. No good ideas come from there, and nobody's going to go there."
Article content
Well, we're going to have the world come to our doorstep, right? And it's going to be for the kinds of reasons and the kinds of things we're talking about at this conference.
Q: What message did you want to get across to the conference?
I wanted to hit their hearts as much as I wanted to hit their brains. It's a tough crowd. We're missing a lot of Americans that would have come but weren't vaccinated. I meant everything I said about ranchers being, for the most part, good conservationists. These people are all bison lovers.
But they've got to realize a lot of First Nations issues go back to that disenfranchisement that has a lot to do with the loss of the bison. They're not isolated.
One of the things that I'm most proud of about Wanuskewin is most parks like that are government operations. Wanuskewin is not a government operation. The community built it. We built it. We've been doing reconciliation for 40 years already.
FCL gives Wanuskewin $1M for world heritage site bid

A Place of Sanctuary: The Wanuskewin Heritage Park story (Part 1)
The news seems to be flying at us faster all the time. From COVID-19 updates to politics and crime and everything in between, it can be hard to keep up. With that in mind, the Saskatoon StarPhoenix has created an Afternoon Headlines newsletter that can be delivered daily to your inbox to help make sure you are up to date with the most vital news of the day. Click here to subscribe.