"For me, it's heartwarming to see like-minded individuals come together for the betterment of Indigenous communities and their relationships with public services." — Kyle Crump, a youth recreation manager with the Splatsin in Enderby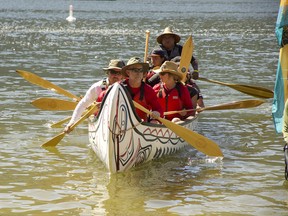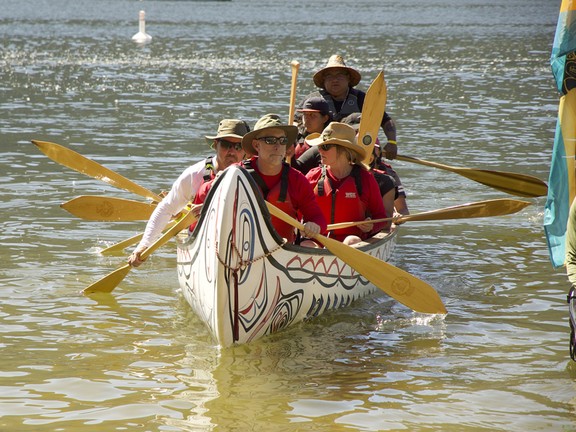 Article content
It was hot — boy, was it hot — but also a perfect day on Tuesday for more than 400 people in 25 canoes to push off from Enderby River Beach and begin an eight-day paddle to Green Lake.
Article content
The journey is called Pulling Together, a chance for Indigenous peoples and public agents that have historically oppressed their rights to their own language and culture — police, armed forces, child welfare officials — to pursue a shared goal and get to know one another during a canoe journey through the Shuswap.
"I was super excited to get out on the water with people from all over the province," said Kyle Crump, a youth recreation manager with the Splatsin in Enderby, speaking from Mara Lake, the first stop on the eight-day journey.
"For me, it's heartwarming to see like-minded individuals come together for the betterment of Indigenous communities and their relationships with public services," Crump said.
Article content
"That's ultimately it, from my experience, a group of like-minded individuals who want to see change and are working for that together on the ground and going into communities and giving the attention and respect Indigenous culture deserves, wanting to learn, wanting to understand."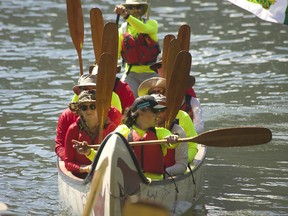 The first Pulling Together took place in 2001, so because of the two-year absence due to COVID this year represents its 20th anniversary, which will be observed with a small ceremony at the end of this year's journey and celebrated on a much larger scale this autumn.
This year Pulling Together returns to the Shuswap, after past journeys from Songhees near Victoria to Musqueam and Stanley Park; Tofino to Port Alberni; Mt. Currie to the Fraser River; Gulf Islands to Victoria; the north end of Okanagan Lake to Okanagan Falls; Hope to Gibsons …
Article content
This 20th journey is hosted by the Splatsin (Enderby), Cstélnec (Adams Lake), Simpcw (North Thompson), and Tsq'escenemc (Canim Lake) First Nations, in co-operation with Tk'emlúps te Secwe̓pemc (Kamloops), and promotes healing, reconciliation and respect for Indigenous host nations, as well as the sharing of Indigenous cultures.
It will have stops at Grindrod Park, Pierre's Point and Blind Bay on the way to wrapping up at Green Lake, a traditional summer gathering place for the Secwépemc, on July 20.
The annual canoe trip was inspired by Vision Quest Journey, a 1997 journey of RCMP officers and First Nations members working together to visit B.C. coastal communities by canoe, after then-RCMP staff sergeant Ed Hill grasped the importance of the canoe to a lot of First Nations cultures.
Article content
After Vision Quest Journey, Hill began planning the first Pulling Together, which launched in 2001 down the Fraser River.
Its mission statement is to lead the way in eliminating prejudice and stereotypes while emphasizing fun, unity, respect, cultural diversity and empathy.
It reads: "Recognizing the past by Pulling Together to enhance understanding between Public Service Agencies and Aboriginal Peoples by Canoeing the traditional highway, strengthening our future relations."
"After so long being off the water, with COVID and everything, it felt like a relief almost after being cooped up for so long, not being able to gather," said Stanley Daniels, an elected councillor with the Canim Lakes Band (or Tsq'escenemc, which means The People of Broken Rock in Secwepemcstin, the language of Shuswap Nation).
Article content
"This is something everybody looks forward to every year, it feels so good to be part of it all again."
But it's not just a feel-good party, not with unmarked graves still being discovered at Canada's residential school sites. It could be awkward, to say the least, for officials from agencies that ripped children from their mother's arms and tried to cleanse a people of their ethnicity and culture to be journeying paddle-to-paddle with the victims of those actions.
It's something that is discussed within Indigenous communities and the institutions represented at Pulling Together, Daniels said.
"Every day as Indigenous people we are told we can't be this, we can't be that, you have to fit in under the Indian Act, face racist ideas of what Indigenous people should have to be, or even what being Indigenous means," he said.
"That is a big challenge, realizing we have a shared collective, shared responsibility to future generations to break cycles and to put aside differences and pull together and paddle together."
So Pulling Together is also about understanding people have their own stories, challenges and difficulties, and respecting that, Daniels said.
"It's all those things, but it's also about being in the water with your family. After all, good governance begins in the home."