The disparity in experiences shared on the first day of public consultations Tuesday showcased how polarizing the protests have become.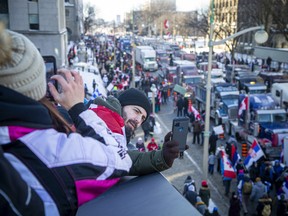 Article content
Ottawa residents expressed frustration with the city's response to the "Freedom Convoy" at a public consultation session on Tuesday that revealed deep divisions over how the protests were perceived.
Article content
The disparity in experiences shared showcased how polarizing the protests have become. To supporters, the protesters were "the most peaceful Canadian citizens ever to gather downtown." Meanwhile, residents haunted by the sound of horns or the smell of diesel in their neighbourhoods described them as "white nationalists" and said they felt terrorized.
The public consultations are part of a general review of the responses by the city and the Ottawa Police Service to the protests being conducted by Nathalie Gougeon, Ottawa's auditor general.
Carley Spencer, a Centretown resident, described feeling afraid to be on the streets outside her apartment and frustrated with the lack of action against the convoy by the police and the city.
Article content
"The pandemic made it hard to leave the house, and the convoy made it seemingly impossible," Spencer said. "The utter lack of police intervention or any intervention by anyone at all felt like a horror movie in which Centretown residents were screaming and nobody could hear us."
Larry Tarof, another speaker, called the protests a "month-long act of domestic terrorism," called its supporters white nationalists and said residents had to take matters into their own hands to speed the end of the protest amid police and city inaction.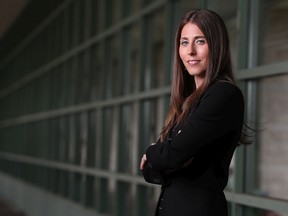 Other speakers, most of whom said they lived downtown and had to contend with ceaseless honking, fireworks and bonfires, echoed the feelings of Spencer and Tarof. The city, several said, should have approached the situation the same way it had done for natural disasters previously: conducting wellness checks on affected residents and setting up respite centres, for example.
Article content
But these accounts clashed drastically with those of convoy supporters, who painted the movement as peaceful, justified and cruelly removed from the streets by power-hungry politicians.
Cynthia Paquin, an Overbrook resident who said she travelled downtown every day of the protests, said she understood it was disruptive, "but that's the nature of protest."
"The truckers and supporters that I met were nothing like the far-right conspiracy theorist, white supremacists that they're being painted to be," Paquin said. "I met people who were being hurt by the government response to COVID and just wanted to be heard. That's what I saw. They came from across Canada, they were men and women, young and old."
The public consultations heard from active "Freedom Convoy" supporters, including Rob Stocki, a former Ottawa Police Service officer and member of Police on Guard for Thee, an organization made up of police officers who disagreed with some of the pandemic restrictions and promoted the protests in February. Stocki minimized the protest impacts and said that, as an officer, he had witnessed worse crowds on Canada Day.
Article content
Zachary Boissinot, a gym owner and personal trainer who defied lockdown orders, said the protests gridlocked the city "in a beautifully organized manner." He described a joyful, peaceful environment that caused minimal inconvenience to residents or law enforcement.
"I made it a point myself of going up to thank any police officer I saw," he said. "I stopped and talked with many officers and asked them what their experience was. All — not most — all of them said the people were friendly and it was some of the easiest shifts they worked."
Another speaker, identifying himself only as Gabriel, blamed the protest impacts and fallout on residents. "To my fellow city residents who were upset with the protests," he said, "you did this. You did this by allowing doctors to be censored, you did this by allowing vaccine mandates."
Article content
At one point, the facilitator of the public consultations had to intervene and urge participants not to use derogatory language after one speaker implied a previous speaker was a white nationalist.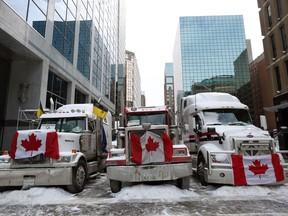 The consultation heard from 12 people. Five declared that were protest supporters, six said they were not, and one person appeared not to take a stance, explaining he thought the protest was peaceful, but had negatively affected his family.
Tuesday's session was the first of two at which a total of 25 people are registered to speak about their experiences with the protests. A second will be held on Wednesday starting at 11 a.m.
Earlier this week, Gougeon said her review would cover different ground than the federal government's Public Order Emergency Commission, which is looking into the circumstances that led to invoking the Emergencies Act.
Residents who did not register to speak at the public consultations, but who wanted to provide comments about their experience during the convoy protests can do so by sending written messages to [email protected], or by filling out an online survey on the auditor general's website, oagottawa.ca.
Gougeon said more than 500 people had filled out the survey as of Tuesday.