Justice Grant Dunlop concluded the government action was improper because the decision to end the masking requirement in schools last February was made by politicians and not Dr. Deena Hinshaw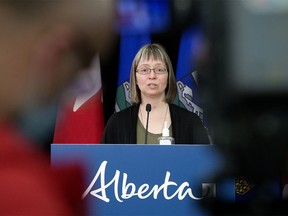 Article content
The UCP government acted "unreasonably" in lifting a COVID-19 mask mandate for schools last winter, a judge has ruled, which is a breach of the Public Health Act.
Article content
In a judicial review that was brought by the families of five immunocompromised children and the Alberta Federation of Labour (AFL), Court of King's Bench Justice Grant Dunlop concluded the government action was improper because the decision to end the masking requirement in schools last February was made by politicians and not the province's chief medical officer of health Dr. Deena Hinshaw.
Article content
"I further find that the Order was based on an unreasonable interpretation of the Public Health Act: that the Act left final authority for public health orders to elected officials. Consequently, the Order was unreasonable," Dunlop stated in his 28-page ruling.
The judge noted that during a Feb. 10 news conference when Hinshaw was asked what had changed in recent weeks to make the decision to lift the mandate, she referred the question to Health Minister Jason Copping.
Article content
"The fact that Dr. Hinshaw declined to explain why she was removing the school mask mandate when a month earlier she recommended that students in all grades wear masks, and the fact that she referred questions to the Minister of Health, who is a member of Priorities Implementation Cabinet Committee (PICC), supports the conclusion that the decision to remove the school mask mandate was PICC's decision, not Dr. Hinshaw's."
On Thursday, the AFL claimed victory in the case.
"This decision overturns the order from the Chief Medical Officer of Health (CMOH), Dr. Hinshaw, that lifted the masking mandate," the AFL said in a news release.
"Further, the decision to do so left final authority for public health orders to elected officials. Consequently, the order was unreasonable."
Article content
UCP disregarded research, court order to disclose rationale for lifting school mask mandate, union charges

At-risk families face schools where students and teachers no longer have to mask

Some parents critical of province as school mask mandate lifts Monday

Teachers raise safety concerns with schools forced to lift mask mandates
Dunlop also ruled that a statement by Education Minister Adriana LaGrange didn't prohibit school boards from mandating the use of masks in their classrooms because her words were not a regulation, but noted they caused widespread misunderstanding in the community.
But the judge also concluded the AFL and the five families failed to prove their charter rights had been breached, "because the evidence before me does not establish that the applicant children, or any other children, are at increased risk of severe outcomes or complications from COVID."
Article content
Of particular interest to the court earlier this year were records from a Feb. 8 cabinet meeting that dealt with the decision, which included a PowerPoint presentation conducted by Hinshaw.
In May, Dunlop ordered the government to disclose documents related to its decision to lift the school mask mandate.
The disclosure lists a litany of studies, articles and research on the value of masking, many of them indicating that face coverings have definite value in protecting the wider community and some merit within schools, though the latter isn't as clear.
But Copping was told in a March 2 briefing note that data showed masking had made Alberta schools significantly safer, while noting their mandatory use had been discontinued over the previous two weeks.
Article content
"According to observed Alberta data, which could be influenced by factors other than masking, school boards without mask mandates at the start of the school year (September 2021) had three times more outbreaks in their schools in the first few months of the school year," stated Susan Novak, policy and planning section chief.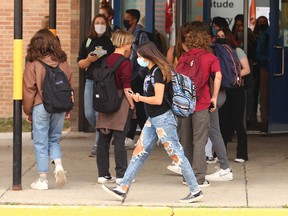 But the province argued the decision was made in good faith following a thorough review of literature from multiple jurisdictions, and that evidence of masking's merits in schools was often weak or inconclusive.
A Feb. 7 memo from then-premier Jason Kenney's office led off with what it calls the negative effect masks have on children and that the data on effectiveness is thin.
"There is insufficient direct evidence of the effectiveness of face masks in reducing COVID-19 transmission in education settings," it states.
"Existing research supporting mask use in schools has limitations that make the pool of evidence weak and the benefits of masking children unclear."
New Premier Danielle Smith said she will eliminate Hinshaw's position and replace it with a panel of experts.
She's also apologized to those she said were treated unfairly by COVID-19 protections, such as masking or vaccine requirements and business closures, and has vowed to never implement such measures again.
Twitter: @BillKaufmannjrn